Admittedly there are more important things to be doing in December than making lists about what's happened over the past 12 months. We're not the biggest fans of doing so over here plus someone has actually already done the hard work for everyone, creating
the most essential list of occurrences in 2010 right here
, but, well... here's our tuppence worth, should you need to reaffirm your faith in our compliance with journalistic culture...
LPs of 2010:
fabric 55: Shackleton [fabric]
Less a mix, more a complete and perfect summation of Shackleton's work to date,
fabric 55
contains unreleased material, re-workings and edits from one of dance music's true idealists. A bold and perfect vision captured impeccably.
Guido – Anidea [Punch Drunk]
Synths may have got weirder in 2010, but one person who absolutely owned his craft this year was Guido. Ever since we heard 'Beautiful Complication' at Rooted Records in Bristol, we knew Peverelist was onto a winner with the then untitled album project. What followed was a glimpse into the unique world of a deft musician on
Anidea
.
Actress – Splaszh [Werk Discs]
Darren Cunningham returned with sharpened nuances back in May for his debut on Honest Jons. Continuing to sound like the outside world listening in to club culture from a soapbox stuck outside of Barnet and wielding his EQs and filters in ways that seemed to filter out any kind of smiles or good intentions
Splaszh
became a dirty piece of history.
Flying Lotus – Cosmogramma [Warp]
Impossible to ignore, Flying Lotus' second album for Warp Records trod a line between beat based genius and absolute freeform madness as the Californian producer went deep into his own universe. As far as crystalline productions go
Cosmogramma
was a space opera that
'marks Ellison out as a true experimenalist'
.
Mount Kimbie – Crooks & Lovers [Hotflush]
If there's one thing that unifies our picks for our albums of 2010 it's the fact that each one presented a unique vision. Mount Kimbie's offering was no different, with
Crooks & Lovers
veering almost awkwardly through some of the most melodically shattered beats of the year. A hit across the board it subverted a lot of dancefloor trends but still made appearances in sets from the best DJs out there.
Gold Panda – Lucky Shiner [Notown]
It feels a little terrifying to admit that sometimes the hype machine is completely on point and Gold Panda is a case in point. After various lowkey EPs on Various Prouction's imprint, including the excellent 'Back Home,' the man known only as Derwin released
Lucky Shiner
- a sampledelic tapestry of up and down tempo music that mixes really well, at times, with UK funky.
Gold Panda also tops the SR 'dreamboat of the year' list pipping Drake, Reggie Yates and Zain from One Direction to the accolade. Congratulations to him.
Honourable mentions:
Rudi Zygadlo, Liars, Ikonika, Darkstar, Deftones, Scuba and more.
::
Compilations of 2010:
V/A – Modeselektion Vol. 1 [Monkeytown]
Aligning the clubbing underground's elite is no mean feat, but to obtain exclusives from each one of them and introduce artists like Robag Wruhme and Housemeister in the same breath is kind of game changing.
V/A – Astro:dynamics [Astro:dynamics]
In the absence of any Beat Dimensions style offerings this year, Rekordah offered up a great set of beats A&Red, packaged and released by himself. His
Astro:dynamics
compilation remains an accomplished arrangement after repeated listens.
Kode9 – DJ KiCKS [!K7]
Kode9's brand of UK funky is different. He's pretty much become the pioneer of bastard house in our eyes and his mix for !K7 caught his style perfectly. Gutter yet danceable, it's the real sound of his London 6-8 months ago.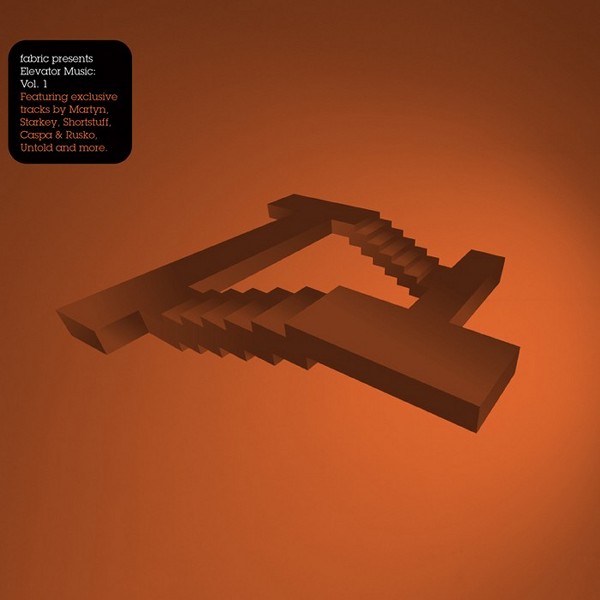 V/A – Elevator Music Vol. 1 [fabric]
Yep – one for the bias aware out there - this collection, released in February of this year, gave some of this year's stand out troupe (Mosca, Hackman, Julio Bashmore, Hot City, Doc Daneeka, xxxy) their first outing to the world in emphatic and beautifully packaged style.
V/A - Tropical Heat Vol 1 & Vol 2 [Myor]
Released in two parts across two 12"s the
Tropical Heat
series has a homespun feel. Its obvious from speaking with its curator, Coco Bryce, that he's as much in love with the music as we are with the quality of this year's Sonic Router mixes, and he manages to straddle the divide between skweee simplicity and boom bap technology across these 12"s with beats from people like Slow Hand Motem, Slugabed, Niño and Mesak.
Honourable mentions:
Brownswood Electric, FABRICLIVE 50: Autonomic, Scuba for Sub:stance, fabric 50: Martyn.
::
12"s/EPs/Tracks:
Ramadanman - Work Them/Fall Short [Swamp 81]
Deadboy – If You Want Me [Numbers]
Jeremiah – Birthday Sex (Hovatron Remix) [FREE DL]
Addison Groove – Footcrab [Swamp 81]
James Blake – CMYK [R&S]
Hizatron – HZA EP [Wigflex]
Elgato – Blue/Tonight [Hessle Audio]
Girl Unit – IRL [Night Slugs]
Braiden – The Alps [Doldrums]
Joe – Claptrap [Hessle Audio]
Blawan – Iddy/Fram [Hessle Audio]
Becoming Real ft. Trim – Spectre EP [Not Even]
T.Williams - Chop & Screw [Deep Teknologi]
Mosca – Square One EP [Night Slugs]
Martin Kemp – Wot U Got/Fix [Blunted Robots]
LV & Okmalumkoolkat – Boomslang [Hyperdub]
Kontext – Sattva [Immerse]
Sentel – Chapel 20 [Concrete Cut]
The Phantom – Nightgame (Zeppy Zep Remix) [Senseless]
Ill Blu – Bullion/Dragon Pop [Hyperdub]
Altered Natives – The Bitch/Crop Duster [3024]
Arp101 – Dead Leaf [Eglo]
Icicle – Anything [Tempa]
Fantastic Mr Fox – Evelyn [Black Acre]
Jackal Youth – Let Me Be [Reduction]
West Norwood Cassette Library – Blonde on Blonde [TEAL]
Hypno – Over The Top EP [PTN]
MJ Cole & Wiley – From The Drop [Prolific]
Randomer – Be Electric [Tru Thoughts]
Martyn – Left Hander [3024]
Ikonika & Optimum – Aqueous Cream [Hum & Buzz]
DVA – Natty/Ganja [Hyperdub]
Hyetal & Shortstuff – Ice Cream [Punch Drunk]
Spatial – INFRA004 [Infrasonics]
Jamie Grind – Baloon [Infrasonics]
Lone – Once In A While [Werk Discs]
Mr Mageeka - Different Lekstrix [Numbers]
Jam City – Ecstasy Refix [Night Slugs]
LHF – EP1: Enter In Silence… [Keysound]
Falty DL – Freqaflex [Planet Mu]
Breach – Fatherless [PTN]
This list is just a glimpse. There are so many more singles/EPs/tracks I've thought of since I even published this... I give up.
::
Please note: These lists are not definitive. Tomorrow it would most likely be very different...