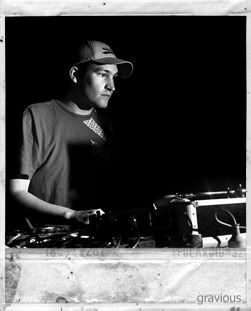 Scottish producer
Gravious
, has re-appeared with a glut of live shows, after a seemingly year long hiatus from releases, after 3 singles on HotFlush and its sub label Scuba. His recent
'Futurist EP'
(
full review here
) for the London based Highpoint Lowlife label was reportedly inspired by visions of the future fitting considering that on the strength of it and of his own productions his future is as bright as a certain mobile phone companies idea to give away 2 for 1 cinema tickets.
We caught up with him to learn a little something while we nabbed our 20th exclusive mix.
Sonic Router: Can you provide those who may not know you with a bit of background info?
Gravious: Yes! My name is Ali, and I produce slightly leftfield Dubstep tunes under the alias Gravious. I'm an Edinburgh boy, but have been based in Glasgow for the last 8 years. My first release came out on Scuba, a sub-label of HotFlush Recordings, back in 2006. That was followed by 3 more on HotFlush, and more recently by an EP on Highpoint Lowlife.
Outside of music who are you? What do you do on the daily?
Outside of music, I am still Ali, but I do a 9-to-5 for an organisation distributing funding money to voluntary and community projects, as the music alone doesn't keep me fed and sheltered.
When did you get into producing?
My mate Rob showed me the basics of production back in 2001, and it really took hold over the next few years. Before then I'd played guitar and stuff, and been well into music, so it seemed like the logical step as I got into more electronic styles.
What is your set up like now compared to back then for making music?
To be honest, I'm still on a pretty basic setup compared to most! I just have a PC, a small midi keyboard and a pair of speakers. Most of the software I use is about 5 years out of date, and I don't use much in the way of plug-ins, but the stuff I do use I know inside out. I kind of like being limited in some way, as you can totally lose yourself in all the hundreds of synths, VSTis and stuff out there. I've used a lot of those things, but I find it slows down the creative process if I have too many...
What first sucked you in to dubstep?
I first heard dark-garage and early Dubstep through J Da Flex and Femme Fatale when they were both had 1Xtra shows back in 2004, and that was what really hooked me on the sound. There were tracks they played that just sounded like nothing else – futuristic and bass-heavy, and with really different beats. From there I started buying records, and checking out the forum on the old Dubplate.net, which always had mix-sets and Rinse shows posted up – which was about the only way to hear that stuff up in Scotland. It was about then, 04/05, that I also started producing Dubstep stuff myself.
Gravious – Subterfuge [Hotflush]
There is loads of quality music coming out of Glasgow your hometown at the moment do you get mixed up in all the goings on up there and what are you really feeling at the moment?
There is indeed! Obviously Rustie is putting out some massive tunes, and has been for some time now – likewise HudMo. I'm also feeling
Darell
's beats at the moment, after seeing a few of his live sets at my mate's night, so check him out.
There's a really healthy scene for that kind of off-kilter bass heavy stuff up here, which is wicked, although I've not been too involved with those guys directly. There are also some really good Glasgow based people on Highpoint Lowlife too – check out The Village Orchestra in particular. I've not been playing that much in Glasgow recently actually! Which is a shame (hint hint promoters, ho ho), I think I need to get myself out there a bit more locally.
Who is exciting you musically at the moment?
In dubstep, people like Hyetal, Peverelist, Untold and Joker are all really doing it for me at the moment. They all have a distinctive sound, and have interesting stuff going on in their tracks that set them apart from much of the rest of the scene. There are always others too, but I have a poor memory! Otherwise,
'Mirrored'
by Battles has been on constant rotation on my player for the past year.
How did your latest release the 'Futurist EP' come about for Highpoint Lowlife and what was the inspiration for it?
Originally, Thorsten from Highpoint Lowlife approached me about some tracks for a compilation album project, at the start of last year, but eventually that ended up being a 3-track EP that came out in May. The three tracks weren't written specifically as an EP, and in fact I made
'Vultures,'
the second track, back in 2007. It came out of my anger at corporate greed in Africa, as it happens (right on brother...). The other 2,
'Jupiter Jazz'
and
'World of Tomorrow'
were more blatantly retro-futuristic in their style, so they are pretty heavily indebted to historical visions of the future, which is something I find really interesting. You can tell a lot about a period in the past from its visions of the future, like the gleaming utopias of the 50s and 60s as opposed to the Terminators and post-apocalytics of the cold-war era.
I can hear a hint of Underground Resistance and Detroit techno in the
'Futurist EP'
and other bits, you have that futuristic soulful melancholic vibe going on at times but with that dance floor edge, is that an important part of your sound or just coincidence?
To be honest, it is more coincidence than design, although I have been getting more into the UR/Detroit stuff recently. It must have influenced me indirectly though, I'm sure, because I can hear it when I listen to that stuff now. However, I've seen a couple of reviews of my track
'Jupiter Jazz'
recently that claim I named it after a UR track, but I'm afraid that's nonsense! It's actually a reference to Cowboy Bebop, a slightly obscure but brilliant Anime series which I was mildly obsessed with when I made it.
There is a really melodic sound to your tracks. How do these come about, do you tinkle on a keyboard, pluck them out of thin air or just have a knack and ear for melody?
Melody is really important to me in my tracks, so it's usually the first thing I work on. So much dance music has great sounds, but no tune. Sometimes that's great, but I find it hard to make good tracks that way. For me, if I'm lucky or on a roll, I sometimes just hear something in my head, and put it down, and it works. More often though, it's just mucking about on my little keyboard and seeing what happens, then tidying it up afterwards.
I see you've been playing all over the world recently to everywhere from Australia to Holland what has been your favourite moment out on tour?
Running over a 2-metre long snake on the way out to a bush rave in Australia was pretty crazy! Couldn't really call that a favourite moment though... That gig was in this Mad-Max style home-made shack about three stories tall, and it had the most incredible lighting set-up I've ever seen, so that has to be up there.
The view out of the TV-Tower I played in Hungary was pretty awesome as well. Generally, it's still pretty mind-blowing just pitching up to these gigs and finding that people the other side of the country/continent/world recognise some of my tunes!
What does your live show entail?
The live show entails me with a laptop, midi-controller, keyboard and Ableton with Reason plugged into it. Basically I don't have enough arms/RAM to play everything live, so I play bits live, use a bunch of audio loops and effects, and sort of recreate the tracks again on the fly.
Tell us a little bit about the mix you have done for us, what tracks just really had to be there?
There's a bunch of tracks I'm really feeling at the moment on there.
'Pixel Rainbow Sequence'
by Hyetal is one that I've been caning for a bit now, so I'm glad to say that will be out really soon. It has great futuristic vibes over a solid beat. I threw that DFRNT track in there too, but there were loads of other great tracks of his I could have put in – he's got some big stuff up his sleeves, a fellow Scot as well... The Kaskaad, Vaccine and Funk Ethics tracks are also belters, and the Ikonika one is a an old favourite. There is also, a cheeky first public outing for my remix of Deep Child.
What have you got in the works right now and what's forthcoming?
The Deep Child remix is out soon on a Sub Continental Dubs 12", and I have two remixes of tracks by German rudeboy Don Goliath coming in the next few months. I also have 12"s lined up on Pollen records, Davey Jones (a new project from the Clandestine Cultivations guys) and !113g@1 v@1u3 in Australia.
I will also be launching Gravious.com in the next week or so, so check it! It has audio for just about everything I've done, and loads of mixes archived.
Have you got anything else you want to tell us, words of wisdom for our readers?
If you do a live set, stick tennis racket grip-tape to the bottom of your kit – it stops the bass from rattling your laptop onto the floor...
::
DOWNLOAD:
Gravious – Sonic Router Mix
Tracklist:
Vision - Jass
DFRNT - Throwback
Funk Ethics - Razor Boy
Gravious - World Of Tomorrow
Kaskaad - Chaise Longue
Hyetal - Pixel Rainbow Sequence
Scuba - Klinik
Ikonika - Phonelines VIP
Dan le Sac & Scroobius Pip - Thou Shalt Always Kill (Vaccine Remix)
Kaskaad - Goa
Deepchild - Wannado (Gravious Remix)
Untold - Just For You
A Shoreline Dream & Ulrich Schnauss – neverChanger (CacheFlowe Remix)
Link:
www.myspace.com/gravious