When a project is
"dedicated to the sounds of 70's Italian horror soundtracks,from Goblin horror funk to Morricone psyched out giallo jazz"
, you know the drums will be heavy in the mix and the funk groove will be the driving focus.
The Giallos Flame
takes those influences and spews them out in a heady swamp of driving instrumentals that convey that tense anxiety thats so essential when sound tracking either the bludgeoning of a young svelt lead actress or a manic car chase complete with flapping moustaches.
Sonic Router asked him to collate his top 5 soundtracks in the hope that we might learn a little something musically and hopefully obtain some slept on sample resources.
1. Zombie 2 - Fabio Frizzi
The classic gut muncher theme, the tune that inspired me to create Italian style soundtrack music. Amazing analogue nastiness in all its glory, although the main theme is the only real track on there, what a tune it is. Classic yamaha CS-80 and Arp 2600 action in one of the most memorable theme tunes ever made and it was all played live!
2. Profondo Rosso - Goblin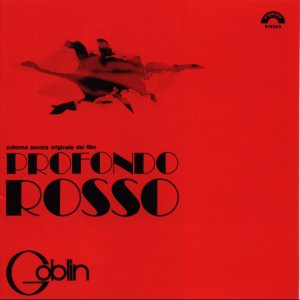 This debut recording rocked cinema theatre's everywhere and changed the sound of film scores forever, not to mention getting to no 1 on the Italian charts and kicking off the phenomena that would be GOBLIN. The main theme is a killer and 34 years later is still popping up in various remixes and cover versions. Lovely drum work by the incredible Agostino Marangolo keeps this album rocking along and the fact they where in there teens makes it even more impressive.
3. Phantasm - Fred Myrow & Malcom Seagrave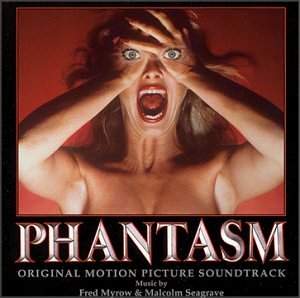 Those who grew up in the age of VHS and betamax will have had this theme tune stuck in there heads for weeks on end. An absolutely beautiful main theme motif that just cant be beat, the classic horror theme done to perfection. Lots of different versions keep it fresh with some nice drum work kicking it along and the sounds of that gothic beauty, the mellotron providing those haunting choirs. Stick with the 1st phantasm score unless you dig those 80's sounding power chord soundtracks!
4. The Beyond - Fabio Frizzi
One of many scores Frizzi did for Lucio Fulci, this one captures the mood & dread of the film perfectly. A haunting main theme with a beautiful melancholic piano motif runs along side some great examples of prog style scoring with fusion drumming under some seriously tasty analogue synths and also featuring the sounds of the mellotron. This is one dark but funky soundtrack.
5. Roma Violenta - Guido and Maurizio De Angelis
The brothers had to be in here somewhere and here is a classic example of there funky polizzioteschi style scoring. Uptempo chase sequences alongside slow, moody interludes makes this a winner with great drums and heavy fuzzed out guitars. The brothers turn out yet another score that rocks the world of cops, criminals and kipper ties!
::
The Giallos Flame has a brand new 7" -
'The Euro Slash EP'
- available for purchase on Norwich based
2600 Recordings
.
2 sides of wax inside a screen printed sleeve the release also comes with an 8 track CDR.
More info here:
http://www.kudosrecords.co.uk/2600recordings/detail/TSH004
He's also put together a podcast of prog funk rock to celebrate the release.
Downloadable here :
http://www.2600recordings.com/music/progmix.mp3
Links:
www.myspace.com/thegiallosflame
www.2600recordings.com