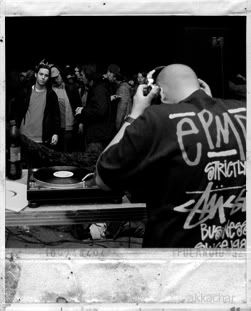 Don Rwina himself,
Akkachar
, the man who gave Starkey's
'A Mili'
refix an airing on wax got in touch a while back proposing he weave together an episode of our ongoing exclusive mix series. Who was I to stop the dude when he's taunting me with the prospect of unreleased Taz Buckfaster dubs and some ultra exclusives from Untold, Gemmy, L.D, and DJ Madd.
There's not a lot of information out there about the good fellow himself, all i can tell you is he's from Amsterdam. You can learn more if you feel the need by checking out the super deep interview with Ak over at the very competent and loverrrly Bass Music Blog here:
http://bassmusicblog.com/akkachar-rwina-records
Starkey - Million [Rwina]
Rather than doubling up on surplus info we asked if he'd put together a Top 10 Dubs chart for us... but at the rate he gets his mitts on exclusives this is most likely his Top 10 of the week, let alone a chart for the entire month of July, but it's a credible indication of some forthcoming bangers for sure.
Akkachar - Top 10 Dubs July '09
1. Taz Buckfaster - Half Man Half Trout [Rwina]
2. Playdoe - Freeze Step (Starkey remix) [Rwina]
3. 501 - St Ives [Rwina]
4. Noah D - Seeeriousss [Subway]
5. Starkey - Rain City [dub]
6. DJ Madd - Jam Master [dub]
7. Matt-U - Take Cover [SCUM]
8. Taz Buckfaster - Headlock [Rwina]
9. Noah D - That Hardcore Tune [Subway]
10. DJ Madd - Bass Come Down [dub]
::
DOWNLOAD:
Akkachar - Sonic Router Mixxx
Tracklist:
Sukh Knight - Diesel Not Petrol (Noah D remix) [True Tiger dub]
Playdoe - Freeze Step (Starkey remix) [Rwina dub]
DJ Madd - Better With You [Boka dub]
Little Beezle - I Left My (Starkey remix) [Seclusiasis dub]
Debruit - Soles Sweat (Reso remix) [dub]
Untold - Never Went Away [Hemlock dub]
L.D. - Oh Yeah [dub]
Taz Buckfaster - Digital Nomad [Rwina dub]
DJ Madd - Bass Come Down [dub]
Dio ft. Jeugd van Tegenwoordig & Reverse - Ruimteschip [TopNotch]
Zero G - Scorpion [S.C.U.M. dub]
Gemmy - Rusty Tin [dub]
Taz Buckfaster - Half Man Half Trout [Rwina dub]
501 - St. Ives [Rwina dub]
Links:
www.myspace.com/akkachar
www.myspace.com/rwinarecords