October
is someone who came to our attention through Pinch; who has been pushing out the Caravan Records message through his publishing company for a while now. But the most engulfing thing about October's work is not the healthy rep of its recommender but the fact that the tracks are so heftily immeadiate and painstakingly arranged to give each sound maximum impact and direction.
A true producer in the craftman sense of the word we sat Julian Raymond Smith in front of his computer and asked him a few things...
Sonic Router: Can you provide those who may not know you with a bit of background info?
October: These days I'm most well known as a producer, engineer and vinyl disc jockey of techno music. However, I've been involved with other genres of music since the mid 90's, starting off doing the jungle thing which led me into the world of electronic music. I'm also known for my broken-beat/dub-step productions done for labels such as; Fluid Ounce and some remixes for Ninja Tune about 5/6 years back. There's also a shady breakbeat past but I'm not too proud of those misguided years. It just wasn't for me and struggled lots trying to make straight up mindless dancefloor shit.
Outside of music who are you? What do you do on the daily?
Uh... Don't know if I want to answer this one. Sometimes lots, sometimes little. I get up, have some breakfast then reply to about 10.000 emails and try and leave some feedback on a mountain of promos I get sent. Then I travel to various microcosms in the past and future, seeking out adventures in a plethora of galaxies and altered universes of variant dimensions in search of musical inspiration. Though, as one can imagine, the travelling takes up most of our human conception of time so when I actually fall back down and burn through our atmosphere; I generally need to relax before a gather my samples and nestle myself back in the comfort of my studio and all its toys.
How did you get into recording music?
Don't really know, it's just something I have to do whether I like it or not. I generally have a fear of making music but these small parasite's living on me make me do it or else I suffer greatly at their evil demands... It wasn't really a conscious decision – I just started making music. Playing guitar and splicing cassette tapes at about 12 years old. Before that I used to paint, draw and build model aeroplane's whilst listening to Nirvana, Sonic Youth and lots of other noisy punk rock or weird Frank Zappa shit.
What's your production set up like?
Mainly analogue based but of course use a computer running Logic. I've been through various synths both bought and borrowed like: Moog, Juno 106, DX7, MS20, Sequential Circuits, Yamaha FM7, Casio, Farfisa and some strange old drum-machines. I also use a big Tascam 16 channel analogue desk, some TLAudio valve stuff for processing plus I still use a Revox and Tascam reel to reel for tape processing. I also have an electric guitar collection which includes some nice vintage pedals and amps. Oh Yeah, and a drum kit and thousands of records. There's more shit but we'll be here for ages...
What are some of your influences on your sound? How would you describe your music? Can you name check 3 artists who influence your production?
Weird noises made by broken equipment, old movies and found sounds I guess. My sound can be obscure, un-nerving and very dark to some but I just like creating tension and keeping everything a bit subdued, sparse and giving it its own texture. I like to give each sound its own place so you could feel like you can reach out and touch it. It's almost an impossible question to answer but my biggest influences are probably: Bernard Herrmann, King Tubby and Sonic Youth.
Why the seasonal moniker? Are you influenced by the world around and the changes it goes through in that particular month?
I am most definitely influenced by the world around but not just in the month of October. I'm influenced all year round. Why I'm called October is a question I get asked a lot and I'd like to think it's because of some special reason but it's just because I was born in October and it's a cool looking word. It also means the month of dirt in Icelandic I believe and I guess my music sounds like a dark, windy and chilling autumnal afternoon.
You use found sounds and loops along with all sorts of studio equipment how do you go about collecting these found sounds and what was the last sound that you found inspired you to make a track?
I mainly record things in my house but I've been doing it for more than a decade now so I still have sounds I've never used. Over the years I have built up such a huge library of samples I sometimes just dig into them. The best sound I found recently is the crackling of reel to reel tape and the recorded destruction of a cheap guitar I once had. Don't think I'll ever get bored of sampling that - so much texture.
When you play out do you use vinyl or CDRs or laptop and why? Where do you stand on the whole digital/vinyl debate?
I mainly use vinyl but sometimes CDR's if a have something new and fresh to test out. I like to use 3 turntables as I like playing tools. I don't understand how just using a laptop is considered live. It's more live when you manually have to mix a record. However, I think using a laptop running Ableton in combination with decks, adds a great slant to a DJ set. Don't get me started on the whole vinyl/digital thing – vinyl will always be superior in every way. The weirdest thing for me is people's surprise that I still use vinyl. I can totally relate to DJ's who just need to use CDR's because of the weight restrictions on flights these days but just downloading nothing but low quality mp3's – I'm sorry but that's just plain weird and alien to me.
I see you were on the bill at Bloc this year how was that gig and did you get to see anyone else, who blew you away?
Yeah Bloc was great – I played 8am to 9am so you could imagine what that was like. Super-duper! All my close mates were there too so the fun was extra fun! I ashamedly slept through Scientist and the Upsetters but caught Robert Hood who was the best thing after Scientist my mates say. So for me it was Hood's performance that really did it for me – uber sparse analogue sounds! I also really enjoyed Joe Hart filling in for Metro Area – really good electro. I have to say, Afrika Bambaata was atrocious and it was like being at a proper Butlins family disco. Tunes you've heard over and over and over and over and over again plus he took half an hour off Carl Craig's set due to his late arrival. None of us we're happy about that...
What was your inspiration behind starting Caravan? Was it simply to create a vehicle for your music?
Yeah fraid so... The idea has been there for years, it just took a while for it to grow.
Your latest project on the label is out shortly... What inspired the mix Recession Vol.1? Was it a label showcase type of thing?
It just seemed like the perfect time to do the album, plus I really wanted the world to hear all these great tracks I accumulated since the start of the label. There are a few special October bits from about 2004 in there that seemed to fit in with the ethos of the mix – see if you can guess which ones...
Who else is on the label?
Not many people. Emptyset, Jilt Van Moorst and myself are the main artists on the label but we've been lucky enough to have worked with artists like: Ripperton, Agnes, Markus Guentner, Etalon, Mathew Leutwyler and T.G. Also gonna be working with a member of Underground Resistance on a collaborative project and hopefully (when he has time) a Move D remix of an October track of his choice. Expect an album from Emptyset at some some point too!
What plans do you have for your music in the future? An artist album perhaps? What are you working on right now?
Without giving too much away – yes I'm planning to do an album for sure but when is another question… My next project is a cosmic disco EP I'm gonna be doing for Ewan Pearson's amazing Miseriecord imprint. I'm most excited about this as I love my good disco and cosmic spacey stuff. I'm also working on some pretty sparse dubbed out, slight Detriot style pieces at the moment for a special project plus Emptyset and myself will be working on something with a founding UR (Underground Resistance) member – who? I cannot say at this moment. You'll all just have to wait and find out.
Any words of wisdom you'd like to give to the users of the world wide interweb?
Don't use facebook. Keep buying music and vinyl. Tickle a cop, hug your neighbour and kiss a homeless person.
::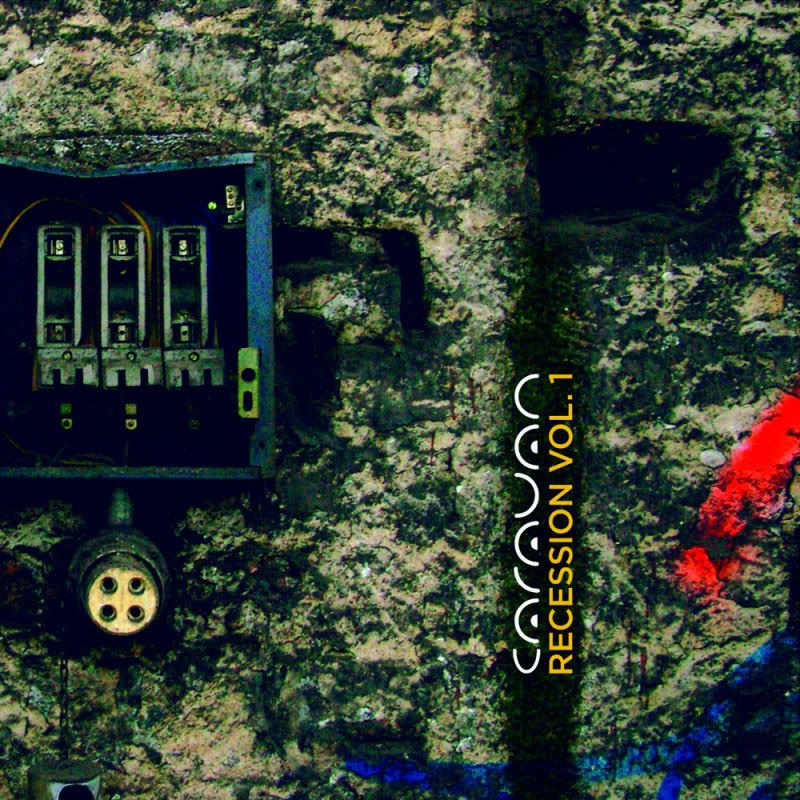 'Recession Vol. 1'
is out now on Caravan Recordings
... and we've kindly been given two CD copies to give away to you, our adoring public.
TO WIN:
Simply be the first to email
sonicrouter(at)gmail.com
with the words "recession you say?" in the subject line.
::
EXCLUSIVE DOWNLOAD:
October - Sonic Router Mix
Tracklist:
1. October – Say Again (Perspectiv)
2. Blagger – Strange Behaviour [DJ Koze aka Swahimi Remix] (Perspectiv)
3. October – Control Room Interior (Caravan)
4. Unknown Artist – Last Flight To Colonge (Do Not Resist The Beat!)
5. Silent Servant – Violencia (Sandwell District)
6. Unknown Artist – Equalized 002 (White Label)
7. Unknown Artist – Wax 10001 (White Label)
8. Tyche – Annealled (Wandering)
9. October – My Left Tool (Perspectiv)
Link:
www.myspace.com/djoctober