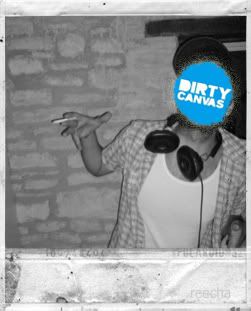 Ahead of
Dirty Canvas
' Room 3 takeover at
fabric this Friday
we went direct to the source with one of the night's promoters, armed with a laptop, a copy of Ga(y)rage Band and an industriously inquisitive look splashed on our mug.
What happened next needs no introduction... well, it actually does, else you might be confused, but you dig the sentiment, right? Enclosed here is an interview and a completely live mix teased out in one take by
Reecha
.
Sonic Router: Can you provide those who may not know you with a bit of background info?
Reccha: My name is Reecha. I co-run a night called Dirty Canvas and a label called No Hats No Hoods. We've just released our 7th record which is Tempa T's Next Hype - which has remixes by Brackles and Starkey amongst others.
Outside of music who are you? What do you do on the daily?
I am me and I make Ps
People say you're the Asian George Clooney… Why pick the Reecha moniker when Asian George has an equally impressive ring to it?
I think that would be disrespectful to the rest of my heritage - as I am nearly as Welsh as I am Asian. However I am planning a folk gabba side project underneath the Asian George appellation. Reecha is the only nickname I had at school, whereas my likeness to the sometime Nespresso spokesman is something that occurred in later life.
What's your involvement with Dirty Canvas?
Check question one, fool.
What can we expect from the fabric takeover?
I hope the same you can expect from any Dirty Canvas night. For me the biggest challenge is the find the balance between throwing a good party and being progressive musically. Although we have originally been more associated with grime, I like to think that our real base is garage - its all its forms and offspring - whether that's grime, funky or dubstep etc. I guess on the night that's pretty well represented by what both Brackles and Mumdance do - who both come from completely different places but manage to be great club DJs while still satisfying those who want to stand in the corner and scratch their beards (note I have a beard and have nothing against them). That for me is the most exciting thing about music right now - well the exciting thing about underground UK dance music at least - people seem to be becoming more open and being less obsessed with labels.
I think Alex Nut is a great example of that too - I pretty much listen to his Rinse show religiously and he's one of those few people who you really do trust to just bring quality whatever he's dipping into and Silkie is making really great music at the moment so I feel particularly proud of the line up.
In short, it will be amazing.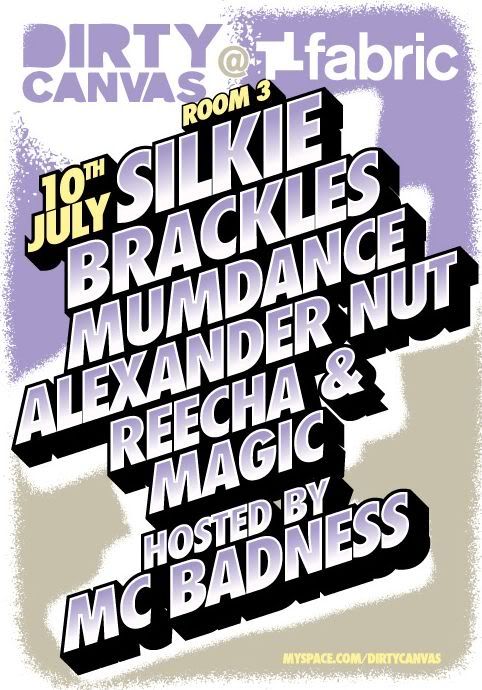 Tell us a little about the mix you've made for us…
Its crap.
Probably could have been tighter but there you go - its just some music I like at the moment. Its got some new stuff, but also some pretty old tunes - but I personally find it quite interesting to 'recontextualise' (i.e. pitch up +8 ) a record by placing it with something it wasn't intended to relate to. Its got on the new Martin Kemp remix he's just done for us [No Hats No Hoods] which I don't think anyone would have heard - its not intended to fully represent what Friday will be like but its just a glimpse of what I might play at least.
Can we expect any original Reecha productions at any point soon?
I used to make some fairly generic UK hip hop - but I stopped drinking tea and lost my backpack. I also wrote about 4 hours worth of punk songs about girls not liking me whenIi was in my teens so it would only be right for me to attempt to subject the world to more. I gotta sort out some shit then I'm gonna get back at it - aided by some people who are infinitely more talented than me.
You got any wisdom for the interweb you'd care to share?
You look uncannily like Gary Lucy.
::
DOWNLOAD:
Reecha - Sonic Router Mix
Tracklist:
1. Floating Points - J+W beat (Forthcoming Planet Mu)
2. Karizma - Groove Accordingly (R2)
3. Donaeo - Party Hard (My-Ish)
4. Kerri Chandler - Bar A Thym (Nite Grooves)
5. Royal T - 1 UP (Martin Kemp Remix) (Forthcoming No Hats No Hoods)
6. Roska - Elevated Levels (Roska Kicks and Snares)
7. MJ Cole - Funky Dub (Unreleased)
8. Menta feat Ms. Dynamite - Ramp (Bigger Beats)
9. Shortstuff and Mickey Pierce - Tripped Up (Unreleased)
10. Tempa T v Dj Oddz - Strung Up Hype (DJ Oneman Mash Up)
11. Hard House Banton – Sirens (White)
12. Tiger Flight - The Great Escape (unreleased)
Links:
www.myspace.com/reechamusic
www.myspace.com/dirtycanvas
www.myspace.com/nohatsnohoods