Laurie Osbourne aslo known as
Appleblim
, is possibly one of the best monikered producer/DJs in dubstep. Alongside his genre spanning sets he birthed one of the most fiercley exceptional record labels Skull Disco alongside Sam Shackleton, releasing 10 vinyl singles and 2 double CD compilations of uber percussive, techno flecked dubstep. Bringing this new wave of minimal production to dubstep's mainstream conscious with the release of his Dubstep Allstars mix on Tempa its been non step for Mr. Osbourne ever since.
His new label Apple Pips is now on its 5th release with platters in your local shop from people like Martyn, Jus Wan, T++ and Ramadanman. Taking over the 2nd room of The Arches in London on Friday night gave us the perfect opportunity to corner 'Blim and quiz him on a few things.
Sonic Router: Can you give those who may not know you a little bit of background info? What you do, releases etc?
Appleblim: The names Appleblim, I DJ house, dubstep, techno, whatever takes my fancy! I ran Skull Disco with Shackleton… now running Apple Pips!
What's the ethos behind the Apple Pips label?
Simply to release great music…
What tasty 12" shaped Pips do you have lined up?
Ooooh loads - got stuff coming from Brackles, Will Saul & Mike Monday, Ramadanman, Greena and many more!
You have secured some tracks and remix from some of techno's main men, from Brendon Moeller to T++ and the Sven Wiseman. How did they come about and what drew them into playing around with the dubstep sound?
They were all kinda cool coincidences from musical connections - T++ I met when I first went to Berlin and visited the legendary Hardwax record store. I'd been a fan since '97 and hadnt worked out T++ was Resilent, Various Artists, Erosion and all these other great records I loved from that era!
Brendon and Shackleton had been in touch, him and Francois K have been supporters of the Skull Disco sound for quite some time, so it was natural to ask him for a remix. Ramadanman had been in touch with Sven, and he'd delivered a great remix of 'Humber,' it all just slipped into place really!
I am very honoured to be releasing music by these people - a dream come true.
Have you got any more plans to work with Shackleton in the near future? How's the elusive fella doing?
He's very well, writing some amazing music, playing some amazing shows, and there will be some very interesting stuff from him in the not too distant future! There are no plans to work together yet but you never know!
I've noticed you've been doing a lot of collaborations lately (Berkane Sol 12" with Geiom, remix with Komanazmuk) What do you like about working with others and how did they come about?
I like the vibe of bouncing ideas off people, it makes being in the studio exciting I think. When it all comes together and your grooving over a beat that came out of nowhere, thats the best feeling ever! I find that hard to get on my own...
When can we expect some of your own (solo) material to drop again?
Release wise keep your eyes and ears out for a remix of Brendon Moeller by myself and Komonazmuk, and 'Sous le Sable' a house tune by me and Ramadanman coming on Aus Music real soon!
Anything else you'd like to plug?
We also have our first Apple Pips showcase night in Bristol at Native on May 1st with Will Saul, Brackles, Greena and myself. Also gonna be a really cool night, loads of different music, funky, house, techno, dubstep, garage, an extra sound system in a nice little club - come down!
Link:
http://www.myspace.com/appleblim
::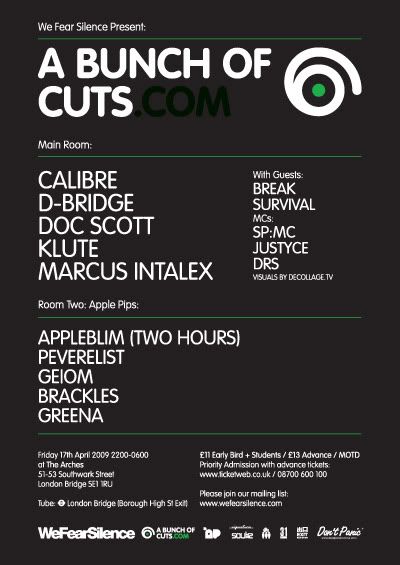 We Fear Silence presents A Bunch of Cuts
Friday 17th April 2009
10pm - 6am
Room 1 - A Bunch of Cuts: Marcus Intalex, Calibre, D Bridge, Doc Scott, Klute plus guests, Break, Survival
MCs: SP:MC, Justyce, DRS
Room 2 – Apple Pips: Appleblim (2hrs), Peverelist, Geiom, Brackles, Greena
The Arches, 51-53, Southwark Street, London Bridge, London, SE1 1RU.
Tube Station: London Bridge
::
Apple Pips' spanking new signee Greena recently put together a mix for our good buddies at FACT. An extreme mixture of tracks and styles it offers a little glimpse of the melting pot you might get to immerse yourself in at either of the Apple Pip nights.
DOWNLOAD:
Greena – FACT mix 41
Tracklisting:
DJ Tameil - Body
Cybotron - Clear
Andrea Parker feat. DJ Assault & DJ Godfather - Freaky Bitches
>>Wonder - What (Geeneus Remix)
Trim - The Lowdown
Lil Silva - Funky Pulse
Crazy Cousinz feat. Kyla - Do You Mind
NB Funky - Riddim Box
Greena - Actual Pain (forthcoming Applepips)
>>>> Shackleton - Blood on my Hands
>> Geoim - Seventy Four
Rustie - Throw Some Ds
Hard House Banton - Siren
More Fire Crew - Oi
Drop The Lime - Hear Me (Buraka Som Sistema remix)
>> Shackle ton - New Dawn
The Bug feat. Flowdan - Jah War
Ikonika - Sahara Michael (forthcoming Hyperdub)
>> Timbaland - Ayo Techology
>>>> Clipse feat. Pharrell - Mr. Me Too
Greena - Vansan Remix
Joker - Digidesign
>> Kraftwerk - Boing Boom Tschak
Joe - Rut
Martyn - Suburbia
Wiley - I'm A Sinner
Zed Bias - Ring the Alarm
El-B - Serious
Pangaea - Memories
Burial - Unite