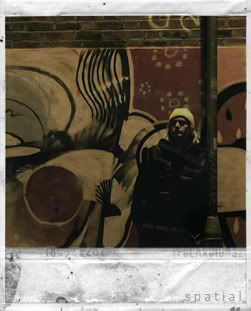 Steeped in 2-step rhythm
s p a t i a l
's productions across his two 10" releases on his own Infrasonics imprint have earned him two Boomkat 'Single of The Week' acolades and a hell of a lot of interest. Choosing to stick closer to the shadows the fact that the anonymous musical craftsman chooses to name his tracks with purely numerical titles only adds to the cloak of mystery surrounding a producer and label about to blow.
With the first Infrasonics 12",
a split release between American producer Ike Release and all around rave smasher Hot City
, set for a release later this month we caught up with s p a t i a l, quizzing him in exchange for the 10th installment in our exclusive mix series.
Sonic Router: Can you provide those who may not know you with a bit of background info?
s p a t i a l: I produce music as s p a t i a l and run the Infrasonics imprint. The first two releases were my own material in a hybrid format that encompassed 10" vinyl and some freely downloadable/distributable creative commons tracks.
How did you first get into recording music? What was it that infected you to do produce?
Usual story I guess: raves -> decks -> samplers/synths. I've been messing around with sound for quite a while now but largely for my own amusement. I find it quite therapeutic actually, there's a reflection of my state of mind through engagement in the creative process which can be helpful as well as painful!
I'd actually tuned out of a lot of dance music for a while, but a few years back I found some material in
Smallfish
that rekindled my interest and had similar themes to ideas I'd been thinking about. That was the first Hyperdub 10" and The Bug thing on Rephlex, and a Tempa 12". I was keen to try an enforce some more clearly defined boundaries within which to produce and I could relate to the common threads in those records.
I'm pretty fascinated with sound at its most fundamental level and the psychological/visceral impact that it can have on us. There's an innate connection that's more obvious to me than with any other artistic medium. Bearing that in mind I guess it was a fairly obvious step to become immersed in production.
What's your production set up like? Do you use software most of the time while producing or do you have a nice stash of synths and all that to play with?
I just use a laptop with soft synths, a sequencer and a sample library that I've collected. I have a couple of midi controllers, actually one is a Yamaha An1x but I never use it's sound banks. I had a full hardware studio a few years back I decided to streamline my setup. Now I've got a few bits of redundant kit hanging around.
Your music has heavy garage rhythms, how did you get into 2-step?
A mate of mine used to run a speed garage night a few years back, a lot of it was too glossy but some of the tracks had a nice 'grimey,' ravey element to them. I never really paid much attention to track details mind and I certainly wasn't buying that kinda material. When I started the s p a t i a l project, I wanted to have a sound that was very clearly repping the UK, but take in other sounds that influenced me along the way.
I've never really been interested in working with breakbeat loops (despite finding the results effective) and I find there's quite a lot of room to play with rhythm in a 2-step groove. You can play around the meter a little to get things sounding less regimented. I quite like the space to have implied or extra swung embellishments around the more accented half time beats.
Your productions are all titled in numerics. Is that a conscious decision to enamour people to take the music properly, without any hype or judgement clouding? Or is it something entirely different?
I really just wanted to keep the names neutral to fit with the minimal aesthetic of the design. Track names seldom mean much outside of the artist naming them. There's also a small dose lethargy and impertinence involved.
Ha!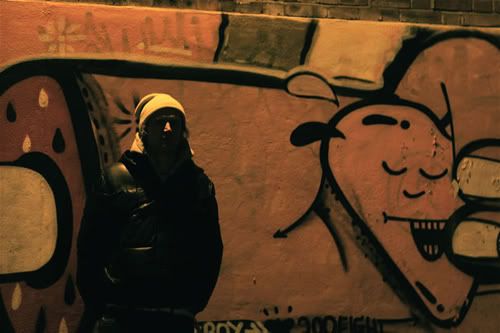 So after 2 solo releases from you on your Infrasonics imprint we're expecting a split 12" from Hot City and Ike Release. Firstly, why the split single format? and Secondly what was it about their beats that appealed to you?
I'm keen to challenge the stylistic boundaries to some extent and I think it's more interesting to offer variety in a climate where it's increasingly difficult to justify physical releases, but not so much in an economic sense - more in terms of exposure. Actually, despite the relative cost ineffectiveness of nice design on short vinyl runs it's still something the I hold as a pretty core value, I want the releases to be desirable objects.
Hot City produces relentless, unselfconscious dance-floor bangers that neatly triangulate Hardcore, UK garage and jacking Todd Edward's style New York House. His material neatly encapsulates Occams Razor, and simplicity is something that always seems more easily obtainable when looking with hindsight at an elegant solution.
Ike creates an energetic hybrid of deep, glacial synthetic textures underpinned by solid subs and UK influenced grooves that I found very appealing. The British rave continuum is clear and present across both tracks but re-contextualised amidst a discerning European sonic palette. It's a very warm and optimistic sound.
What else have you got coming up - on the label and otherwise - that you can talk about?
I've done a remix for
Badawi
which should be coming out on a new label called The Index run by Raz and Dave Q (Dubwar NYC), it looks like an interesting series - the other mixes are by Shackleton, Headhunter and Cardopusher.
I've also completed another remix of a False Prophet track for a label that's being formed now. Both tracks are in the mix.
And I'm currently working on the next 10" of my material.
Can you tell us a bit - walk us through - some of your choices for the mix? Your production style seems to be very heavily detroited 2-step, yet your mix is incredibly varied. Does this represent a normal DJ set for you?
Yeah, if I've got enough time in a set then I like to mix it up. I enjoy playing with the energy levels and although you can do that within one tempo I much prefer to morph things stylistically if I can. The first track by Brassica is just killer, he's a very talented producer of various styles. His "Microvictories" album is very lush, organic electronica where's this track is just vibing!
Probably slightly confusingly, I prefer Dave H's A Made Up Sound moniker to the 2562 stuff. I do like the 2562 material but there's a rawness to the production with AMUS that just gets me. The Omar Funkyman track - hmm, that could cause trouble! In general, there's a lot of interesting Funky tracks around and that soca-esc rhythm is very danceable so that's why there's a healthy dose of that included. The Emvee track is sick! It's funny actually as I was in South America a few years back and started thinking about trying a take on the Reggaeton / Calypso when I returned. Missed a trick there!
I'd been into Disrupt's stuff from when Jahtari was a pure netlabel, before the Werk release, I love it and was glad to see the CD come out. Then there's a couple is more overtly Ravey tracks: a while back I was listening to some old mixes and I was really struck by the energy of that music. After that we're probably into the more expected 140bpm stuff. I really love that Kloke track, the James Blake bit is super addictive and a nice new slant on things and Untold is doing great work also.
I could rant on about all of the tracks really - that's why they're on there! Some of the older stuff is there because I've rediscovered it again recently and still find it so appealing, 2 Bad Mice makes me wanna dance around the room and Phylyps Track has an sonic intensity that parallels the intensity of FWD>> when it's firing.
You got any wisdom you'd like to impart on the internet?
Make your own damn media!

DOWNLOAD:
s p a t i a l - Sonic Router Mix
Tracklist:
1. Brassica feat. Lakey - dumdadumdum (forthcoming on Highpoint Lowlife)
2. A Made Up Sound - Next (Subsolo)
3. Hot City - Setting me free (forthcoming on Infrasonics)
4. Omar Funkyman - Jani (Unknown)
5. Emvee - Glitch Dub (Wireblock)
6. D-Malice - Bad Habbits [Roska Mix] (Visions)
7. Drop the Lime - Hear Me [Buraka Som Sistema Remix (Unknown)
8. Disrupt - Riddim Grid (Werk Discs)
9. La Roux - In For The Kill [Skream's Let's Get Ravey Remix] (CDR)
10. 2 Bad Mice - Hold it Down (Moving Shadow)
11. Kontext - Plumes [Relocate Remix] (Immerse)
12. LAZARUS PROJECT - Aftermath Booty (Cease & Desist)
13. Hatti Vatti feat. Sara Brylewska - Different Music (forthcoming on Mindset)
14. False Prophet - Wake Up [spatial Rework] (forthcoming on Take Records)
15. Kloke - Aquarius (Entrada)
16. RSD - Green Hill (Punch Drunk)
17. Taz Buckfaster - Quack [Original Mix] (Ramp Recordings)
18. Quarta 330 – Sabacco (Hyperdub)
19. ERDBEERSCHNITZEL - Drehundangelpunk [spatial Rework] (forthcoming on Alt Recordings)
20. Ike Release - Jenova (forthcoming on Infrasonics)
21. Badawi - More Of The Same [spatial Dimension Intrusion] (forthcoming on The Index)
22. Clouds - Timekeeper (Ramp Recordings)
23. James Blake - Air and Lack Thereof (Hemlock Recordings)
24. Sully - Duke St Dub (Mata-Syn)
25. Basic Channel - Phylyps Trak (Basic Channel)
26. Untold - Dante (Hotflush Two)
Links:
www.myspace.com/spatialdubs
www.infrasonics.net