If you've listened to Mary Anne Hobbs' Radio 1 show of late you'll have more likely than not heard the beats of
Tokimonsta
, her productions have littered the tracklists since the West Coast Rocks special back in January. An affiliate of the Brainfeeder camp, she's a big part of the LA beat scene and kindly offered to put together a mix for us in exchange for a few words ahead of her UK tour later this month...
Sonic Router: Can you provide those who may not know you with a bit of background info?
Tokimonsta: In short, I'm a female beat maker repping Brainfeeder and all my LA-liens.
Outside of music who are you? What do you do on the daily?
I have a strange obsession with cooking shows, documentaries, and cartoons. I wake up in the afternoon because I go to sleep at 6-7 in the morning... I have a tendency to work on music late at night, or would that be early in the morning...? Clothes, shoes, clever music gear and sick vinyl are my weaknesses.
How did you first get into making music? What was it that infected you to do produce?
I was always a purveyor of music—you know, a bit of a music snob. One day a friend suggested I tried making beats of my own, so I did. BAM! That's how I ended up where I am today. Now I get to create music I enjoy that other people can enjoy with me.
What's your production set up like?
Messy! I have my monitors, mixer, 1200s, handytrax, sp 404, computer, various midi controllers... etc etc. I can't give all my secrets away :)
How would you describe your sound to someone zoning in for the first time?
It's strongly hip hop influenced, spiked with electronic sounds and a lot of spacey Asiatic/Latin jungle vibes.
What's your take on being part of the LA beat scene? I bet it gets the creative juices flowing with so many quality producers in the community, is there a sort of friendly rivalry between you all?
I love it! I don't believe there is any rivalry because we're all so different. Though we might have similar roots, we have branched out into our own unique sound. I always get to hear something fresh from my LA music fam.
Being picked up by Flying Lotus' Brainfeeder label is very cool indeed, what do you have in store on that label for us all and what's it like being the first lady of Brainfeeder? Do you get a crown or anything cool like that?
No crown for me... I'm fine just knowing I'm associated with great people. I will have something out on BF, but not quite yet. I want that project to be personal and something special, so I will be taking my time. In the meantime, I will have other releases that will be out sooner and the rest of the BF fam will be putting their albums out - it's going to be sick!
How did your live show come about, what's the set-up like and what do you like about the freedom of having controllers to tweak as apposed to turn tables and all that?
My set up varies, but most times it includes my laptop, a midi controller, audio interface, footswitch, and every now and then my SP404. I feel as though it's not just the controllers that give me freedom, but the software as well. You can literally create new music on stage verses just mixing songs on a turntable.
What music are you feeling at the moment from inside and outside the scene?
I love the new Kings of Convenience album. I have a thing for very spacey, soulful, and romantically-twinged music.
What other releases have you got dropping soon; I spy a Ramp Recordings plate on your myspace?
Yes! I have an EP coming out on Ramp very very soon—maybe this month or the beginning of next month. Then I have a shared 10" on All City. There's also the collab project with Suzi Analogue which will be on Jazzy Sport (JP) and I have another solo album in with Art Union (JP). Of course, I have my BF project as well, the date of that is TBA though.
You've got a UK & Europe tour coming soon, have you been to the UK before and what are you looking forward to the most? Apart from playing loads of awesome music of course…
Actually, I have never been to any part of Europe at all. I'm looking forward to the eats, people, architecture and culture. It'll be great to see more of the world that has a richer history than the US, which is more an infant compared to other places.
Tell us a little bit about the mix you've done for us, what tracks did you just have to play?
I threw in the type of joints I love... grimey, bangin', dark, funky, dancey, soulful, nerdy, all of it! I just had to make sure I mixed them in a way that made sense. What's the fun of only liking one type of music right? Plus, I actually want to see if people can manage to recognize the songs (so no playlist). Of course, I stuck my tunes in there as well.
Is there anything else you would like to tell us? Have you got any words of wisdom for our readers?
Don't let society tell you what you should or shouldn't be listening to. If you dig something, just stick with it. Another good tip bit, a good dose vitamin B helps prevent or alleviate a hangover from too much boozing... just thought a few people might appreciate that. ;)
::
UK residents can catch Toki at the Ramp Recordings showcase at the Lightbox in Vauxhall, LDN on the 25th November, Donky Pitch in Brighton on the 26th, New Bohemia in Leeds on the 27th and Hoya Hoya in Manchester on 28th.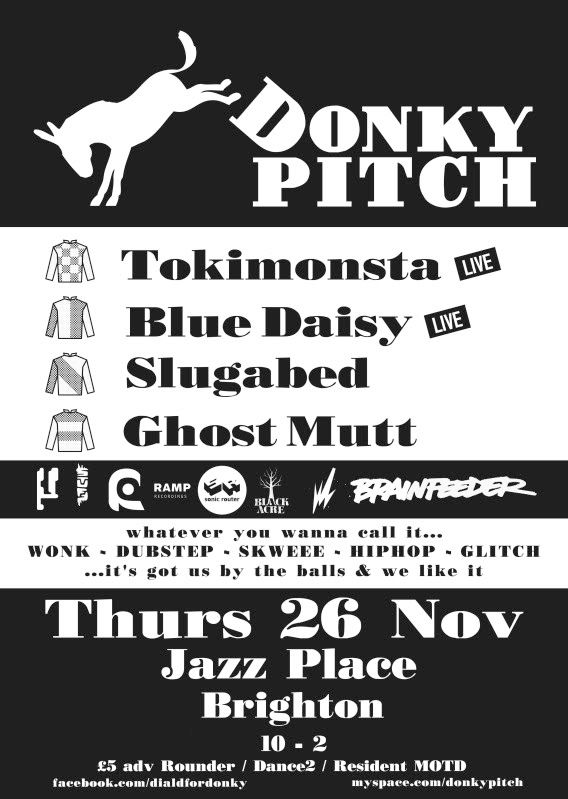 ::
DOWNLOAD:
Tokimonsta – Sonic Donky Mix*
No tracklist, sucker.
Link:
www.myspace.com/tokibeats
Photo: Shaun Bloodworth
*brought to you in conjunction with
Donky Pitch
.