xxxy
hails from Manchester and produces bass music that sucks in elements of house, techno and all the other good stuff that's been perforating dance floors at the tail end of 2009. He's released on the Formant, Mindset and Open Earz (alongside Indigo) labels and also has a track,
'Sing With Us,'
forthcoming on the new fabric compilation,
'Elevator Music Vol 1.'
To mark the eve of the New Year we grabbed him for a chat and managed to snatch our final exclusive mix of 2009…
Sonic Router: Can you provide those who may not know you with a bit of background info?
xxxy: I'm a bearded man from Manchester who makes electronic music in between 120 and 140 bpm.
Outside of music who are you? What do you do on the daily?
I work in local government. It's not very interesting but it contributes to the bills…
How did you first get into making music? What was it that infected you to do produce?
I had just dropped out of Uni and managed to steal an aging pc off my folks and at about the same time I'd got quite into the early dubstep tunes my mates had been buying. I was messing about a bit and my missus bought me a midi keyboard to get me out of the way while she finished her dissertation. I started getting more serious about it after that. It's been about 5 years but I am finally starting to be a little happier with my tunes.
What's your production set up like?
A mac book pro and some headphones usually. My neighbour isn't very sympathetic about bass so I don't get on my monitors as much as I wish but they are there when I mix down.
In terms of software I use Ableton for production and for playing out. Sometimes there is a lot of stigma aimed towards DJs who play off laptops, I don't know about anyone else but I go to clubs to listen to music dance and have a good time. I couldn't give a flying fuck if someone plays off a laptop, CDs or vinyl as long as I enjoy the tunes.
I can do a lot more interesting things with Ableton and a midi controller than I can with a set of decks and some 12"s. I still buy records, I love records and it's an addiction I don't think I will ever shake. Often I will buy both the 12" and the mp3 release as I am too pressed for time (lazy) to rip the tunes myself.
How would you describe your sound to someone zoning in for the first time?
I dunno maybe a mix of techno house and garage with a smattering of other sounds…?
Whats the deal with the xxxy moniker? You keen on chromosomes or sommat?
It was a name that came into my head when I was walking home one day, I liked the ambiguity of it at the time and it stuck.
Also I've seen it written in numerous different ways. Whats your official line, XxXy, XXXY or xxxy?
xxxy - pronounced triple x, y
You used to produce as forensic (mcr), what made you change names/directions?
I produced as forensix (mcr) and released '1st Dynasty' b/w 'Solace' on Revolution music in '07 but whilst it went down very well I had only just started making music properly and I wasn't happy with my sound; so I backed off for a while and wanted to start afresh so I came back with some better productions and a new name.
Your productions fuse house, garage and techno what is it about the slower than 140bpm tempo that you prefer?
I love the grooves and shuffle of house, garage and techno. Really rigid tunes can get a bit dull after a while.
Is that the kind of background you come from?
Not at all, I grew up listening to britpop and indie and I still listen to a bit of it. I would say some of my influences at the moment would be Rhythm and Sound, Carl Craig, Karizma, Modern Love releases, Theo Parrish and many, many more.
You're involved with the Mindset label, further than just releasing on the label, right? What does this involve for you?
I assist Indigo with promotion and anything else he needs help with, it's a label that means a lot to me. The belief and enthusiasm he has for the music he puts out is very infectious.
You are a Manchester resident I believe, what's the scene like up there?
The scene is hit and miss, as I am sure it is in most cities. There are some really good nights; Strange Fruit which has the finest array of residents anywhere in the country in my opinion - Rich Reason, Inidigo, Synkro, Andro and Dimit and Fantastic Mr Fox… Hit and Run, Curve, Soul:ution (which made it's long overdue return this year) and Sicknote (which I help promote and I'm a resident at).
We are blessed with some great record shops too; Eastern Bloc, Piccadilly Records are great for house and techno and you can always pick up some second hand bargains at Vinyl Exchange.
Tell us a little bit about your mix, how did it come together, what tracks had to be in there and what other tracks are you digging right now?
I was off work sick with the flu and started listening to a lot of deep house and I thought it would be interesting to combine it with some of the new UK house which I had been making and have been sent as well as some dubstep which I am really feeling at the moment along with some classics.
What have you got coming up that the world should know about? (releases, gigs, bowel movements etc)
'Rain' should be out on Pollen soonish, 'Sing With Us' is coming out on 'Elevator Music Vol 1' - fabric's dubstep/post dubstep unmixed compilation which is a brilliant representation of bass music right now and there will hopefully be a release on Mindset in the new year.
I will be popping up regularly in Manchester in the next few months and I'm playing at fabric on 8th January for the 'Elevator Music' launch party which will be fun.
Have you got any words of wisdom for us, and our readers?
Look after your ears; imagine a world without music before you stick your head in a bassbin; oh, and always wear a bandit hat.
::
DOWNLOAD:
xxxy – Sonic Router Mix
Tracklist:
Missing Linkx - Who To Call [Philpot]
The Machine - Fuse (Ame Remix) [Innervisions]
Martyn - Elden St (Sebo K Watergate Edit) [Watergate]
Dirty Culture - Doua Puncte Ics EP [Loco]
Junior Boys - Like A Child (Carl Craig Remix) [Domino]
Doc Daneeka - Drums in the Deep [fabric]
Coyu and Edu Imbernon - Morena [Diynamic]
Mario da Ragnio feat Abell - Curcuma (Milton Jackson Remix) [caballero recordings]
Martyn - Friedrichstrasse [fabric]
Canard & Lauer - Vibration [Peppermint Jam]
Karizma - Groove A K Ordingly [R2]
Atjazz, Domu & Yanna Valdevit - Info People (Atjazz & Domu's Bruk Mush Remix) [development music]
Spencer Parker - You Got Me [NRK]
Hot City - If That's How I Feel [fabric]
L-vis 1990 - Run [Dress 2 Sweat]
The Discowboys - At Midnight (Steve Bug's always late mix) [Dessous]
xxxy - Blue Flashing Lights [dub]
Forsaken - Be my vice [dub]
Synkro - Digital Soul [dub]
xxxy - Flew [dub]
Hypno - Telescope [dub]
Joy Orbison - Wet Look [Hotflush]
Mr Gasparov - 1975 [Steakhouse]
Spatial - 90729 [Infrasonics]
Fantastic Mr Fox - Sketches [Black Acre]
Octa Push - Ai Nadia [Steakhouse]
Geiom - No More Tears [Berkane Sol]
Groove Chronicles - Stone Cold [DPR Recordings]
Octa Push - Laika Likes it [Steakhouse]
Brackles - Lizards [Applepips]
F - Untitled Dub [7even]
Appleblim - Vansan (Gatekeeper Remix) [If Symptoms Persist]
xxxy - You Always Start It [dub]
Catch xxxy at the Elevator Music launch party on Friday 8th January at fabric: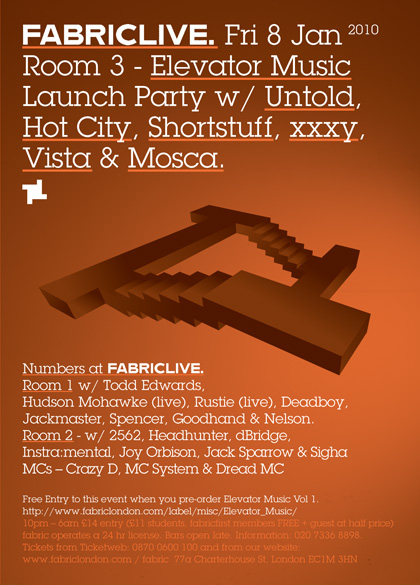 Link:
www.myspace.com/xxxydubs