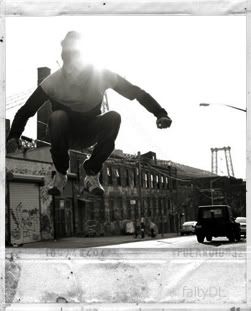 Andrew Lustman's debut album under the
FaltyDL
moniker arrived in my possession with little fanfare. In fact I think it was around the same time as the latest Boxcutter album got sent out that I received it, so, in some foolish self deprecation type manoeuvre, I put it on the back burner, choosing to dive straight into the alt-skwee of Barry Lynn. But
'Love Is A Liability'
is such a stringent work that revels in its simplicity and Lustman's 2-step infused productions are so insistent and fiercely computerised that it's hard to besmirch him any sort of positive praise.
Mr Lustman has got incessantly catch garage fuelled beats, which he fully proved with his
'To London'
track which was released on the excellent Ramp Recordings, and it's a billion times our pleasure to present you with the 15th exclusive Sonic Router mix and shed some light on the joy that is FaltyDL's music.
Sonic Router: Can you provide those who may not know you with a bit of background info?
FaltyDL: Shalom. I've been livin' in NYC for some time now making beats, teaching kids and trying to be a good human being. Though its very difficult to do that here in New York. Yesterday I got in an argument with a stranger about something. I can't remember what, but it was just dirty business.
Outside of music who are you? What do you do on the daily?
I just try and improve everything. My organization, my desktop. I've started taking care of issues as they take form; almost foreseeing difficulties in the smoothness of it all. I'll wake up and have five things on my mind that I need to take care of before lunch. I usually get about 2 done. I walk around a lot eating amazing food and smoking way too many cigarettes. That's about as good as a day gets.
How did the name come about, do you have a lot of problems with downloading?
I think I wanted FaultyDL but couldn't spell… so it was FaltyDL when I was about 12 years old. It just stuck.
I heard you were a sushi, chef before you starting hitting the buttons, what's your signature dish and are you handy with a knife?
Yeah man I used to make this roll called the 'Ebi Babba,' Chef Bun Lai came up with this:
1. Skin a potato thinly, leaving a intact 15 inch or thereabouts curling peel.
2. Tempura fry a single large shrimp and let the potato peel soften in the smoking hot oil at the same time.
3. Remove both from oil, set aside
4. Slice 5 or 6 thin pieces of Havarti Cheese
5. Wrap cooled potato skin around shrimp with cupi mayonnaise (Japanese mayo, much more tasty)
6. Slice potato 6 or 8 times for sushi style pieces
7. Place Havarti on top of sushi with an extra drizzle of cupi, dill and chives.
8. Torch for 10 seconds till cheese melts.
That's the recipe, I didn't invent it, but I ate it about 10 times a week… Get into it.
How did you get into making music?
I was tired of playing bass in a jazz band…it was all very 'jazz band' and I needed a little more control. Now I have almost too much control. Theres no regiment anymore. Its nice.
What's your production set up like? When did you start producing and what was your set up like then compared to now?
Its been the same since I started pretty much. The center piece being a 6 year old Mac G5 pillared by two massive JBL 4328ps. That's it really. I mean two Technic 1200's and a microKontrol help also… But theres lots of vinyl… lots of vinyl…
Coming from New York, which has its own rich garage history - all be it a very different sound to the UK 2-step garage - how did you become infatuated with the UK sound?
Infatuated? Not sure if that's the right word. Obsessed with? Maybe that's better. Simply, my true love besides my girl friend… is Jungle. Jungle. Jungle. There's shuffle in Jungle too. I don't think a lot of kids know that. Maybe they do. But that's the dark beauty I think about. Remarc is a bigger influence then the Artful Dodger though… haha! Although 'Rewind' is a good tune. Actually check Butler Kiev's remix on Planet-Mu. Amazing… Speak and Spell action.
Is there a strong scene for 2-step out in the US?
I have no idea. I don't think so, but maybe...?
"I am so isolated in my tower of undecipherable speech"
- Being John Malkovich.
I'm not that good a writer. I tell you what tho, I'm incredibly grateful for a night like Dub War. DQ Joe Nice and Incyde put on an amazingly diverse night. It may be centered in Dubstep, but everyone has played there. I played after Ras G for Christ's sake two months ago, followed by DJG and Clouds! So yeah, you'll hear garage at Dub War.
Who from back in the day and from modern music inspires you? You got any records in the collection that might surprise a few people?
I just got Garcia's
'It's A London Thing'
10". That's getting a lot of play at the moment… plus my Luke Vibert collection has no holes in it.
Surprising? Let me go see… Oh, here I have
'Henry Mancini'
complete with an amazing hairpiece on the cover of the LP.
Your album
'Love Is A Liability'
is out on Planet Mu. Can you walk us through the concept behind it? How long did it take to put together? Do you believe the title to be true? If so why?
I believed it before I met someone that proved me wrong… But well, actually, yes, yes it is a liability, but one that makes life all the richer. I wrote some of the album shortly before I turned 25, and finished it shortly before I turned 26. Was a hell of a year. A crazy year. Working with Mu has been excellent, Mike P had an image in his head of the album that was at points gruelling for me to figure out how we could meet somewhere. But there is definitely a mutual respect which is awesome.
Although to be honest I've been respecting him a lot longer… but I'm very grateful to have had his ear during the process. Truth is, its gotten easier, the second release is already sorted before the album hits shelves.
You've got some 12"s out already on Ramp and a remix package on Planet Mu featuring mixes from Luke Vibert and Boxcutter, how did those all come about?
RAMP hit me up and wanted some tunes. I've formed a real friendship with Tom over at RAMP. Had a few beers with him in London last month actually. He's also got a vision in his head. 'To London' is a funny tune. To me its so simple. Look at it. Drums, bass, vocals and synth. That's it. No tricks. People dig it and that's dope. I heard it at a club and said, "Oh Shit I know this one!"
The remix EP speaks for itself. That's just a dream remix EP for me there. Mike and Luke have been on my stereo since I was a kid, and Barry helped hook me up with Mu in the first place. Its beautiful.
FaltyDL - Love Is A Liability (Album Preview)
Have you got any other projects dropping after the album?
Yes, there will be more 12"s and maybe something bigger on RAMP soon. Also there is an EP/mini album on Mu later this year. I'm actually more excited about those than anything I've done so far.
Are there any plans for UK dates in the coming months?
Yes. I'll be touring Europe in August. Just setting it all up now; it looks like it's going to be a real adventure. All over the place hopefully, we'll see.
Can you tell us a little bit about the mix you've put together for us? Does it
reflect a typical FaltyDL DJ set? Any exclusives etc etc.
Yeah theres exclusives in there. I'm all over the place with my tastes, I hope to at least cover about a 70 BPM range here. My sets depend on what time in the night I'm on tho. I really want to play at like 7 am. Just play Pink Floyd or something… I dunno.
Have you got any wisdom that you'd like to impose on the interweb?
Treat each other kindly. I'm working on that right now. Not a gem, but a good rule to live by.
::
DOWNLOAD:
FaltyDL - Sonic Router Micks
Tracklist:
1. Luke Vibert - Swet (Planet-Mu)
2. Floating Points KG Beat (Planet-Mu)
3. FaltyDL - Human Meadow [Boxcutter remix] (Planet-Mu)
4. FaltyDL - Pressure (dub)
5. Horsepower Productions - Pimp Flavors (Tempa)
6. FaltyDL - Bravery (dub)
7. FaltyDL - Lifer (dub)
8. FaltyDL - Safe (dub)
9. Boxcutter - Foxy (Planet-Mu)
9.5 Krome and Time teaser...
10. Clark - Farewell Mining Town (Warp)
11. Wagon Christ - Spot Light (Rising High Records)
12. Nautilis - Nautilus (Planet-Mu)
13. El-P - Toj (Definitive Jux)
14. Jonny Greenwood - HW/Hope of New Fields (Nonesuch)
Links:
www.myspace.com/faltydl
www.planet-mu.com
Please note:
Photogaphy by
Sabine Mirlesse