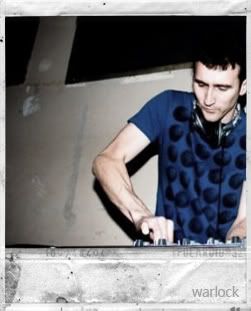 Warlock
is one hell of a DJ, splicing styles and mixes mannerisms as quickly and stylishly as possible. His
'Out On The Lash'
mix smacked the SR camp between the eyes when it was unleashed all those months ago and his genre blending really is nothing short of legendary.
Ahead of his Rag And Bone label's takeover of Room 3 of fabric this Friday we sat him down and he dropped some knowledge all over us as well as blessing us with our 11th exclusive mix.
Can you provide those who may not know you with a bit of background info?
Yeah I like to spin bass heavy gnarly music with a good sense of rhythm and funk. My usual set then comprises a mix of dubstep, bassline, fidget, minimal, ghetto, bmore and a fair bit of stuff that fuses a lot of those styles but hasn't really got a name of its own yet.
Forward thinking cutting edge music I like to think, frontier business. I try to deny it but often there's usually the odd old skool reference and the occasional hoover mooching about. After all, I'm an old raver at heart and I'm probably living out the hardcore continuum so that'll explain it. I'm not averse to dropping some old classics in there too, acid house, electro, hardcore, 90s techno, the like.
So that's me, I'm a DJ by default but got into producing some time after, making music along similar fronts. I've been ducking in and out of the music industry for a number of years. I'm currently out cause I'm co-running my own underground label Rag & bone, but perhaps I'm 'in' the industry, I'm not really sure. I've also got a regular show on Sub FM which I co-host with Noyeahno (archives here
http://www.dubstepforum.com/viewtopic.php?t=59998
Outside of music who are you? What do you do on the daily?
When I'm not running the label or dj-ing I teach, music production, music industry stuff, DJing, In some ways I'm a bit sad because everything I do evolves around music but at the same time its wicked as I'm working in the area I like.
Whats the meaning behind the Warlock moniker?
I was about to start playing on a London pirate radio station and needed an alias. I went to a clairvoyant once and she said I used to be a Warlock in a past life and at the time so I thought yeah that fits. I'd been playing heavier darker music (no change there then) so it definitely seemed suitable. I don't believe in any of that mumbo jumbo though. She must have had a tip off I was coming.
Funnily enough everyone thinks I grew up playing dungeons and dragons which I've never done in my life!! I've never really been into anything like that at all to be honest.
How did you get into making music?
The flashing lights and dark noises sucked me in. As a teenager I was an indie kid, was learning guitar and then acid house came along and completely fucked my head up. I was like "what is this stuff?" Sadly I've now demystified the aura of how on earth people make these incredible sounds and how a DJ could possibly blend 2 or more records together into one big long continuous soundscape but I still seek that same sense of "what the fuck? What is that? Where did that come from?"
I'd been DJing a few years before buying my first piece of kit, an Akai sampler. It was such a wicked machine, was a really good grounding and taught me a lot about making music with technology. It took me a few years to realise this is what I was supposed to be doing. I kept going round denying it, thinking yeah I must sort myself out with a proper job.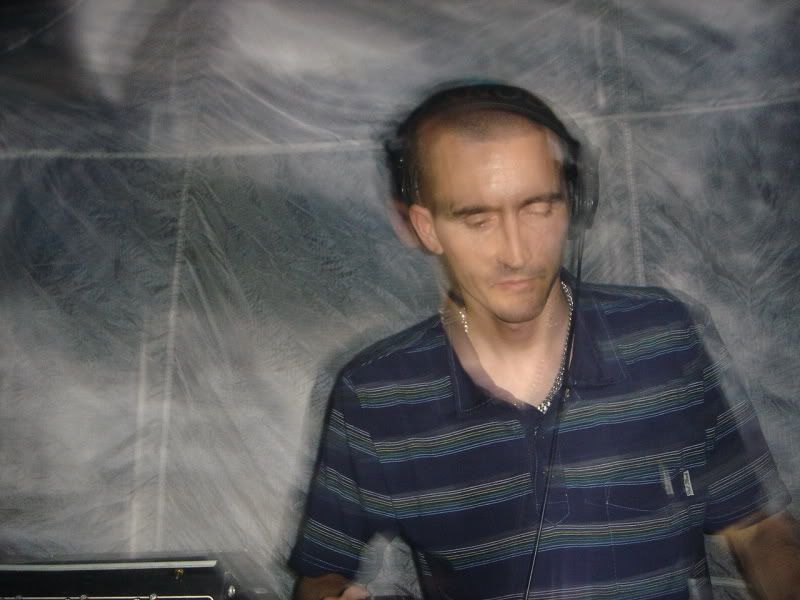 What's your production set up like? When did you start producing and what was your set up like then compared to now?
My first sessions in the studio were with Asides and Optical and also Sebastian from Spiral Tribe. It was wicked working with them because they knew so much, but I've always been one for doing things myself and wanted to be more hands on, so I spent a good few years setting my own studio and learning the gear.
Not the quickest way of going about things but its how I wanted to do it. This was about 1995. Back then computers were just a small part of things, just a midi arranger. I started out working with an Akai 3000 sampler, 808 drum machine and a Sequential 6 track synthesiser. I still have all the gear and have combined the studio with Noyeahno's which now means among other things there's some fat analogue Roland synths in there too.
However that said everything is now done on the computer. I've always used Cubase since day one but have recently switched to Logic so its been back to the drawing board with having to re-learn everything.
You run Rag & Bone alongside Noyeahno. Can you give those who may not be so up on it a brief history?
Noyeahno is my other half and even before we knew each other we had both been playing similar music in similar places, so once we'd been together for a while it seemed a logical thing to set up a label. The focus has always been about releasing bass heavy dance music with some kind of funk, and which doesn't really fit easily into one genre, kind of straddles the lines a bit, is original. And its always been about trying to sign big big tunes that rock a dancefloor.
Originally it was for our own productions which all too often were never clearly one style, but we've opened up the label to other artists to keep everything fresh. Over the years we've released music by Drop The Lime, Kanji Kinetic, King Cannibal, Blackmass Plastics, FZV, and more recently Excision and Stagga. We've always been about releasing 12" vinyl which we're still doing, but it's a difficult time at the moment with that format ever more under pressure. We are selling records but it can be difficult because the style of some of releases only sells on digital so it's making us wonder if we should become purely a digital label.
We've always been under the radar in terms of this development that has been going on with the way consuming music has changed in the last decade but things seem to be reaching a point where even we are now feeling it. Pressing up vinyl is a costly process so one big fail can hit you really hard. It's always good having that sort of pressure though because it forces you to make sure you don't release any old shite, gives some quality control, unlike some digital labels out there. There's more stuff out there than ever before (which is good), but if you're prepared to commit to vinyl then you would like to think it has to be good.
We've been planning for ages to expand into the CD album market but again its another declining format so it's a case of whether its worth taking the risk or not. For the long term future, it's really difficult to say. The concept of a record label in the sense it has existed up to this point is dead. The future of consuming music is getting it for free. That's how it is. That's how it's going to be. There was a really interesting debate recently organised by Music Tank which stated that in this digital age, anything that can be copied has zero financial value, and anything that can't has immense value. Thus music has no value but an artist (which can't be copied) is incredibly valuable. Doesn't look good for the record labels does it?
I'm happy to embrace this but from a label's perspective, we're living on borrowed time. The only reason we can still do this for now is because the music has a niche status and there is still a certain cult appeal for the vinyl format. But yeah I'm actually positive about this. I'm in it for the long haul because I still get off on all the new music that comes through, and this flow of music won't stop regardless of whether you can sell it or not. I'm just a bit unsure which way it's gonna pan out though. Exciting times though... really exciting.
Your hosting a Rag & Bone room at fabric on the 19th June. What have you got in store for the punters?
I'm really pleased with the link up. We've got to program some of the artists that myself and Noyeahno really think are doing it at the moment. We've done club nights in the past where you get to curate all the best music you want to hear but because you're running around like a blue arsed fly you don't actually get to appreciate it. So the Fabric night is gonna be well enjoyable. Everyone we have chosen is totally on fire at the moment, Stagga, Kanji Kinetic, Raffertie. Both myself and Noyeahno play a variety of styles, new and old and are quite versatile with how we play so we will both slot around the others to make sure there is a good flow to the night but still bang it out in our own way.
Musically it's gonna be pure filth. Stagga has just got this totally warped take on dubstep right now. He's got a real trademark sound at the moment which over the next year I'm sure your gonna get a lot of copycats for. Less typical for a dubstep producer, he's actually got a good grounding in hip hop and so his music is fat as fuck, swung lo and super crunchy. Kanji Kinetic, well, again, he's come through with a completely unique mash up bassline sound, which its unfair to call it bassline, because its as much that as it is bmore, hardcore and more. Man makes proper big belters of a tune. And Raffertie; yeah, utterly next level. It's like he just emptied trash into a food blender and makes totally wrong but actually completely right fucked up shit as a result. There's psycho basslines from hell, alluding to dubstep, 4/4 etc and then in comes a cheesy steel from some 90s dance hit. Its nuts, but the whole thing completely works.

What else is coming up on the label in 2009?
We're really exited about the future releases. There is about 3 or 4 really exciting projects being lined up but because they're not 100% locked down I can't really say!!

And in terms of Warlock productions can we expect to be slewed anytime soon?
I've got a track coming out on Coin Operated in the next couple of weeks. Again it's a label that's on form at the moment. My track 'Black Bag Of Doom' (check da
myspace
) is on there which typically, and not by design, doesn't really fit into a genre. Loosely its got a heavy uptempo grimey beat in there with some frenetic latin vocals, but I'm not totally sure what it is. Need an outside perspective on that one.
I've also got a remix about to land on the streets for Cynthia Stern and his Input/Output label from Sweden which is actually a cheeky remix of Follow The Leader. There was a quirky dubstep track of mine called
'Click Clack'
which recently came out on Scan One's Yellow Machines imprint too. But yeah I've definitely got to get back on it as I haven't been too productive lately. I've been busy running the label, dj-ing and also had problems with my studio computer (which have thankfully been resolved) but to doubly compound matters I've just taken on the task of learning Logic. But its all good, I'm well itching to get a load of new ideas down. Soon come!!

Got any wisdom you'd like to impart on the interweb?
Don't live in the past because you'll be there when you die.
::
DOWNLOAD:
Warlock - Sonic Router Mix
Tracklist:
1. Jannner - Beelzebub
2. De Niro - Babylon
3. Untold - I Can't Stop This Feeling
4. Howie B vs Casino Royale - Ramandanman Redub Dub
5. Ramadanman - Revenue (Untold Remix)
6. Dead Sound - Shuffle
7. NB Funky - Riddim Box
8. Whistla - 420 Lockdown
9. DJ Comix - 2 Kool 4 School
10. DJ Comix - Run Da Track
11. Kanji Kinetic feat Shifty Moova
12. AC Slater - No Party For Old Men
13. Cryogenix - Jungle Tribe
14. Stagga - Sick As Sin (Ultra V.I.P)
Links:
www.myspace.com/warlockdj
www.ragandbonerecords.co.uk
::
Catch Warlock and his fam at fabric this Friday