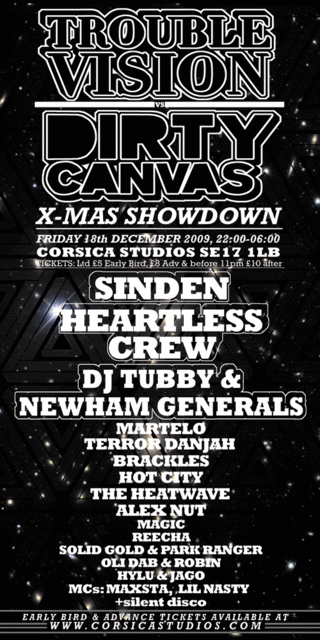 Trouble Vision
collide with
Dirty Canvas
next Friday for a Christ honouring shindig at Corsica Studios, featuring a stellar line up including Sinden, Heartless Crew, Terror Danjah and Newham Generals.
Facebook Event
//
Tickets
To celebrate we've been given a copy of the brand new No Hats No Hoods (Dirty Canvas' record label - yep, them that released
'Next Hype'
) 12" release from Royal T, his
'1UP or Shatap EP,'
which features a remix from the ultra suave Martin Kemp (audio of which is in his
SR mix
) alongside two extra tracks from Royal T and a refix of
'Beatfighter'
from Night Slugs co-conspirator Bok Bok.
To scoop the vinyl simply
email us
the word thats missing from the statement below:
Q: The man like Tempa T definitely will not give you none of your ____ back?
A: CDs
B: DVDs
3: Bonsai Trees
The winner will be announced before Xmas.
Links:
www.myspace.com/dirtycanvas
www.myspace.com/intothefraydj