Email courtesy goes along way round these parts; and considering that politeness, astuteness and having your shit together are also bonuses, when we heard the first full release from
West Norwood Cassette Library
– forthcoming on his own label of the same name - and engaged in the back and forth ritual of electronic conversing, getting him to unsheath an exclusive mix for us seemed like the best possible thing for both of us after we realised his communication game ran so deep.
With a name that suggests an extensive knowledge of music and a penchant for near pedantic cataloguing of genres, a regular monthly night in Brixton and a sound that maintains a constant level of dancefloor appropriate energy whilst displaying perfectly his synergy between delayed techno chords and funky percussion, we're proud to introduce you to the WNCL…
Sonic Router: Can you provide those who may not know you with a bit of background info?
West Norwood Cassette Library: I'm Bob Bhamra aka West Norwood Cassette Library aka No.1 Astronaut, one half of Data 70 and another half of Plastic Soul. I DJ and produce a bit, put on a monthly night (Rock La Bibliotek! at The Hive Bar in Brixton), do a blog and podcast sometimes and have just launched WNCL Recordings.
Outside of music who are you? What do you do on the daily?
I'm involved in production of an entirely different nature. I work at Verso Books, an independent publishing house based in Soho.
How did you first get into making music? What was it that infected you to do so?
Records… I grew up surrounded by 3 older sisters who were all mad for buying records. Some of my earliest memories involve stealing their vinyl and staring at it for a long time. As for making music - the process was entirely informed by the desire to have a record out.
What's your production set up like? What's your favourite bit of kit in the studio?
Frankly, it's embarrassing: a cracked copy of this, a broken down that, all held together with string. I'm sure it's quite easy to upgrade everything but I'm a technophobe. Too many wires and I go blank. My favourite bit of kit is anything that doesn't crash.
Where do you take inspiration from when making music?
Bleeps mostly.
What's the deal with the West Norwood Cassette Library moniker?
It's just a joke between me and a friend – a mild ribbing of my obsession for filing and memorising record catalogue numbers.
How would you describe your sound? You share a dancefloor slant similar to say Shortstuff…
I have no idea how to describe it – that's your job! Still, I won't sniff at a comparison to Shortstuff.
And how did you get into this current flux of dubstep?
I missed out on the roots of it. I'd been buying house records from the days of the early Chicago Trax releases and was equally obsessive about hardcore, jungle, speed garage and drum and bass that followed. But by the early millennium I just had dance music fatigue. The clever ones dug deeper whereas I just fell asleep in the corner for a couple of years. I blame my colleague Rowan at Verso for the dubstep infection. He pretty much spoon fed it to me on a daily basis until I gave in. I'd say that by early 2007, specifically N-Type's
Dubstep Allstars Vol 05
mixtape, I was sold; hook, line and sinker.
Your first release as WNCL comes out shortly. What's the deal, what can we expect from the release?
It's a 10" vinyl press of my own track, 'What It Is,' backed with a fantastic remix by Brackles. It's in the shops from Monday 24th May. The digital version is already available.
What other projects have you got in the pipeline? What's happening with you in the rest of 2010? Gigs, releases, personal growth etc?
At the moment, everything is based around promoting WNCL001. I've just done a spot for Jonny Mugwump's Exotic Pylon show on Resonance FM and there are a couple of gigs coming up. This Friday 21st at Babalou, Brixton with James Blake and Untold and next Friday 28th is the next Rock La Bibliotek at Hive, Brixton with Hanuman from Monkey Steak.
Release-wise, I've got a remix of Unique 3's 'Take This Love' out now, a track called 'Blonde on Blonde' forthcoming on Teal, a new label from Denmark and, of course, more plans to release on WNCL.
And there's a WNCL mini mix on Mary Anne Hobbs' Radio 1 Experimental show that broadcasts on June 2nd – which I'm terrified about.
Any words of wisdom for our readers?
Litter – put it in the bin
::
DOWNLOAD:
West Norwood Cassette Library - Sonic Router Mix
Tracklist:
1. West Norwood Cassette Library - What It Is (Brackles Remix) [WNCL Recordings]
2. Quantec - Busted [WNCL Dubplate]
3. DJ C feat MS Thing - Jump Up And Bounce [WNCL Dubplate]
4. Unique 3 - Take This Love (WNCL Remix) [Mutate]
5. West Norwood Cassette Library - Blonde on Blonde [forthcoming Teal]
6. Kerri Chandler - House Is House [Downtown 161]
7. Gideon - Work That Shit [Southern Comfort]
8. Plastic Soul - Body Form [Dubplate]
9. Ramadanman - Glut [Hemlock]
10. Random Noise Generator - Instrument of Change [430 West]
11. Riva Starr - Dance Me (Jesse Rose Remix) [Made To Play]
12. Stuffa - A Million Secrets (Carli Remix) [Trunkfunk]
13. Point B - Industrial Revulsion [Combat]
14. Don Froth - Von [Dubplate]
15. West Norwood Cassette Library - What It Is (Origianal Mix) [WNCL Recordings]
::
You can catch WNCL at the following events: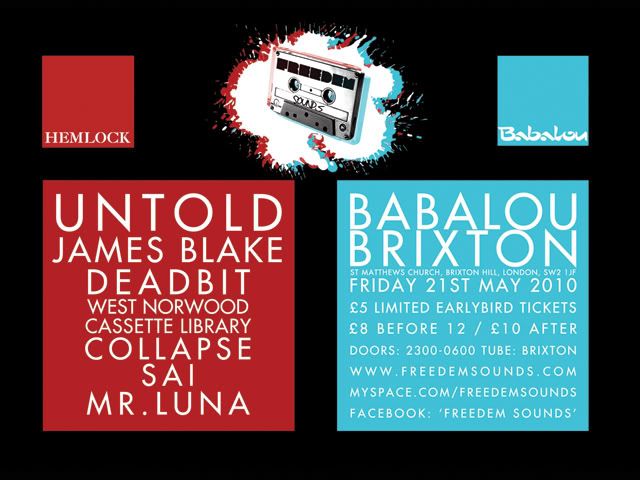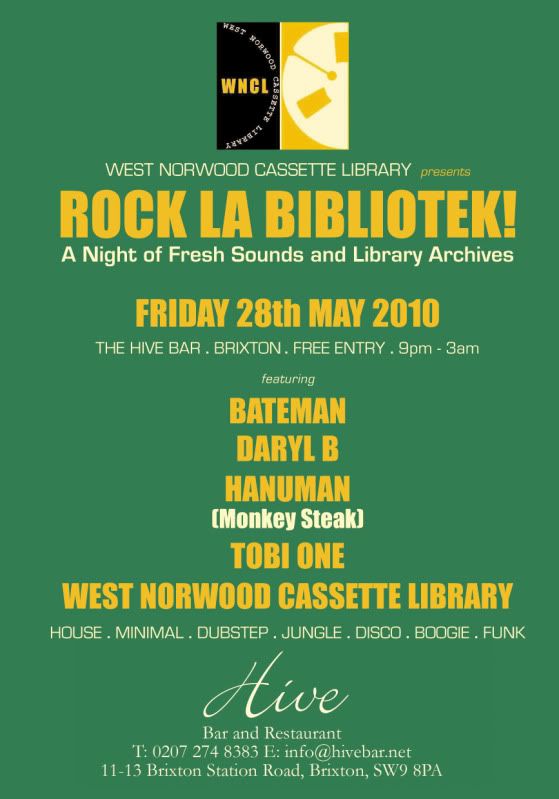 Link:
www.myspace.com/westnorwoodcassettelibrary
Photo:
Georgina Cook