First appearing on a split 12" with Sonic Router bumboy Slugabed,
Coco Bryce
has slowly taken up residency on the HQ's mainframe computer. Managing to fuse a clean emphatic skweee sound with rougher more boom bap drum work he gets the best out of his bumps on tracks like 'Boesoek' (available to stream on his
myspace
) and 'Ghetto Freaks' which appeared on Harmonia's
International Skweee Vol 2
compilation late last year.
After a run of sweet ass mixtapes, including an outing for Musique Large's La Mixette series, the Dutch producer now rolls with the
Lowriders Collective
- a positively music besotted bunch of party promoters, mixtape makers and bloggers - and has a frankly frightening amount of forthcoming releases so, ahead of his appearance at the Donky Pitch night later this month we stole him away from his outdoor life and sucked him deep into his computer's circuitry to answer a few burning questions.
Sonic Router: Can you provide those who may not know you with a bit of background info?
Coco Bryce: I'm still a messenger boy 3 days a week, though I've also been a skater for a long, long time.. not too fanatically nowadays, but i never really quit and can still rock a pretty decent switch heel… I've been spending a big chunck of my spare time on the interwebb lately, running a half-assed blog:
20shotsequence.blogspot.com
and chatting on Facebook with Halp & V.C.
How did you first get into making music? What was it that infected you to do produce?
My uncle (who's a REAL musician, unlike myself..) gave me a Roland TR 505, and I'd already been DJing for a couple years before that, so trying to do some tunes seemed a pretty logical step. I bought a couple of cheap synths and more drum machines, stuck whatever sounds I wanted to be distorted in the mic entrance on my Numark DJ mixer and made a bunch of horrible sounding tekno records like that. I didn't have a sequencer (Cubase or anything) to edit the overall tunes, so most of it was live recordings. also got myself a bootleg copy of Rebirth (Reason's predecessor which consisted of nothing more than a 303 & 808 software version clone) somewhere along the way and Fruity Loops of course.
Where do you take inspiration from when making music?
… Mostly other music; could be something I hear on the radio/internet or being at a party and hearing some fresh sounds. Sometimes it's hearing something in a movie I think might sound good as a sample in a tune; or getting some fresh sample packs will usually get the creative juices flowing a bit as well.. If I find myself at a dead end I'll sometimes put a CD into my computer and start cutting up random bits n bobs and see what comes out.
How would you describe your sound?
It's pretty much all over the place I guess… lately a lot of hip hop & 8 bit bleep influenced stuff… somewhere between bad Slugabed rip-offs and even worse Dabrye copies… some Skweee tunes which are a bit cleaner sounding… and a bit of mid 90's style rave breakbeat; Iused to be a big "Knite Force" fan boy and I guess it never left…
Release wise, what can people go out an buy from you?
Ok in the shops now there's Myor 02 (a split 12" with the Slugalicious one), Myor 03 (a split 7" with Artek/S.Y.Z.), the 'Ghetto Freaks' track on Harmönia 10 (International Skweee Vol 2 compilation LP) and remixes for Pixelord released digital-only on Error Broadcast.
And forthcoming:
-Myor 04 compilation EP
(full compilation features tracks from Rekordah, Slugabed, Mesak +)
-Lowriders 002 EP (with remixes by 1000names & Pixelord)
-Fremdtunes, collab tune with Dj Mace
-Mässy compilation cd (1 or 2 tunes)
-Dodpop compilation cd (1 tune)
-Astro:Dynamics compilation cd (new label by Rekordah, with tunes by Mike Slott, Sluga, Clause Four, Rekordah, Tapes and a lot more)
-Lowriders digi comp.
-A remix for Niño which will be released on a limited 7" by Galleta records (with a Mweslee remix on there as well)
-Lo Fi Funk compilation double LP (1 tune)
-A remix for Pixelord (breakbeat rave) released digitally on Car Crash Set
-A collabo tune with AK Kids for their "featuring" album.
What else is coming up for you? You got any gigs in the pipeline?
Yeah, April 10th at Motel Mozaique with the Lowriders crew in Rotterdam (+ Hud Mo, GLK, Dam Funk), then April 15th at Donky Pitch vs Lowriders, Brighton and May 8th at Europe Mania festival in Pecs, Hungary.
Plus, I'm now 'officially' a member of the Lowriders crew, so all their parties + a residency at a local club here in Breda called De Boulevard, on every first thursday of the month.
Got any wisdom for our readers?
I'll get back at you on that when I've thought of something witty to say…
::
DOWNLOAD:
Coco Bryce – Donky Pitch Mix
(via Zshare)
Tracklist:
1. Space Dimension Controller – The Love Quadrant
2. Phoenix – Listzomania (Classixx Mix)
3. Beem – Automan
4. Rigas Den Andre ft Dan Draper – Drugs Don't Work
5. Onra & Quetzal – Give Something
6. Ill Suono – Moment of Sympathy (Nobody Remix)
7. 1000Names – Cup Of Joy
8. Black Milk – Outro (Coco Bryce Edit)
9. Caribou – Melody Day (Four Tet Remix)
10. Caribou – Melody Day
::
Catch Coco Bryce at Donky Pitch vs Lowriders in Brighton next Thursday alongside a plethora of great people: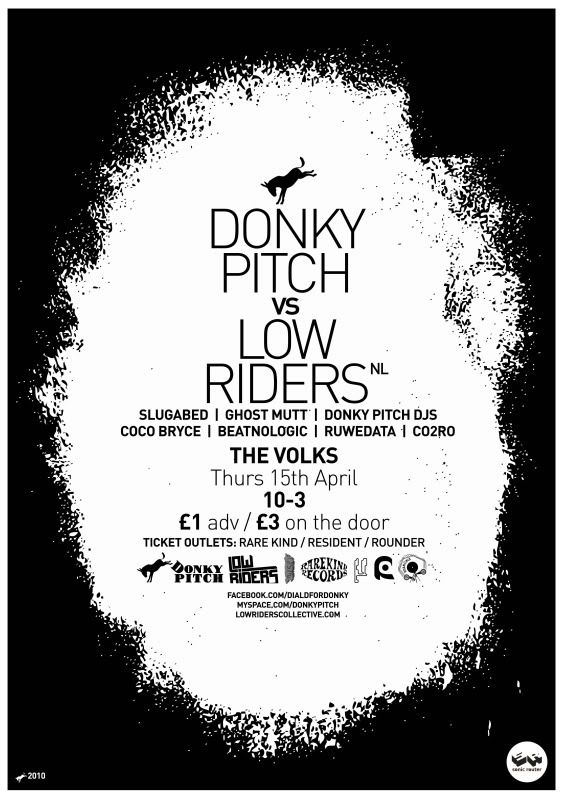 Facebook Event
Link:
www.myspace.com/cocobrycebeats