The importance of pirate radio stations in London has been frequently documented, with the impact of these small pockets of fiercely original producers and DJs pushing their own sounds out over the vast expanse of the city; sitting pretty between frequencies on your FM dial.
Rinse FM
is without doubt the most influential former pirate station to broadcast in London; starting 16 years ago as a primarily jungle station its constantly provided an outlet for British underground music, housing legendary shows that featured appearances from people like Skream, Tinchy Stryder, Dizzee Rascal and Wiley – whose
Ustream binge
has kept us locked to our screens for most of today even though he's done very little –giving them and a whole host of other incredible DJs and shows a global audience when the station harness the power of the internet and began broadcasting online.
As should be common knowledge by now, earlier this year Rinse was awarded an FM license, something the station have been pushing for since mid 2007 - something Dan Hancox described more eloquently than I ever could in a piece for the
Guardian newspaper
- so it comes as something of a double celebration that the station's 16th Birthday party is happening next Friday at
fabric
in London, with something of an epic lineup – just peep the flyer below.
Rinse have been giving away an exclusive mp3 every day over at the
site
with the promise of delivering a full 16 tracks before the event itself on Friday 10th September. So far producers like Roska, Bok Bok, Zinc, ScratchaDVA and more have dropped peaches for nothing, just the price of a couple of cursor clicks. You can go
here
for a handy run down of the downloads or keep an eye on
Rinse's twitter
for up to the second updates.
So... in celebration of the FM broadcast license and their 16th anniversary – which the internet tells me should be celebrated with the giving of silver holloware or the gemstone peridot - we've been given the honour of giving away two pairs of tickets to the event, with one lucky winner obtaining the bonus prize of an exclusive 'I Am 16' t-shirt (
pictured here
).
To be in the running simply
email us
the answer to the following question by the end of play next Wednesday.
Q: Who mixed the latest Rinse compilation, Rinse 12?
Please note: The winner will be notified by email on Thursday. Please make sure you can attend the event before entering.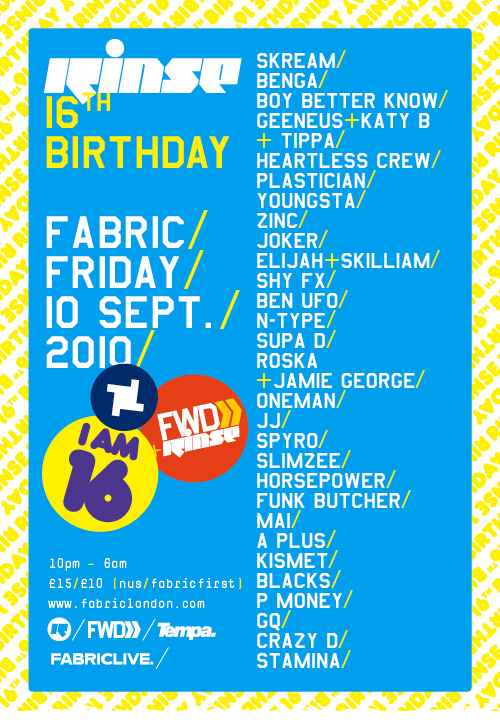 Links:
http://rinse.fm
http://ilovefwd.com
www.fabriclondon.com