Thanks to the kind people behind
Friday 19th's Medium vs. Sin City clash
at Cable we've got 2 promo pressings of Sin City 001 to give away to you lucky people. The 12" features:
Coki & N-Type -
'Debt'
Benga -
'On The Edge'
Chef -
'Obama Bass'
Lost -
'Nack Back'
Crazy D -
'Flex Ting'
Just answer the following question with an
email
to be in the running.
N-Type
's favourtie meal is:
A) Jacket, Beans & Cheese
B) Leg of Lamb w/ Mint Sauce
3) Pot Roast
Winners will be announced post Sonar.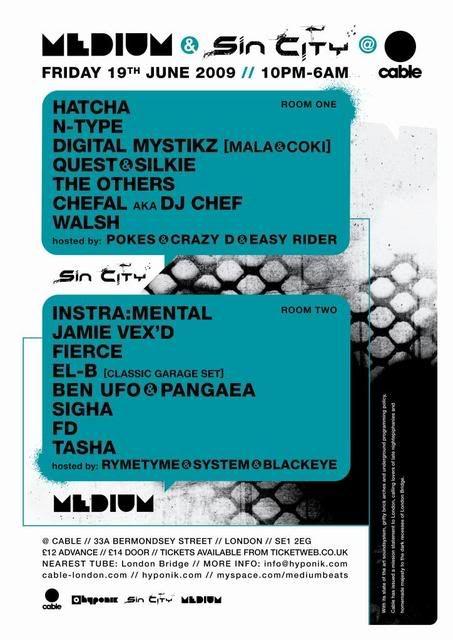 ::
Also you can check out the other side of the music programming, the drums and the bass aspect, from the Medium room right hurrr.
DOWNLOAD:
Rockwell - DOA Mix
Tracklist:
01) ROCKWELL - MOLLOCH
02) SABRE - ASH
03) INSTRA:MENTAL - NO FUTURE
04) ROCKWELL - UNDERPASS
05) DATA - THE SPRAWL
06) ALIX PEREZ - IM FREE
07) OPTICAL + RYMETYME - WE ENTER
08) SPECTRASOUL - MIMIC
09) ALIX PEREZ + SURVIVAL - UNTITLED
10) DATA - KYUSHOJUTSU
11) JUNE MILLER - SHIMIZU
12) ROCKWELL - TRIBES
13) SPECTRASOUL - ORGANISER (RAMADANMAN REMIX)
14) ROCKWELL - STOWAWAY
15) ASC - ALCHEMIST
16) LOXY + RESOUND - OBLIVION
17) GREMLINZ + GOLD STAR - SEAN ROMAN
18) ROCKWELL - NOIR
19) JUNE MILLER – POISON THE WELL
20) CONSEQUENCE – TIMELOSS
Links:
http://wordpress.hyponik.com