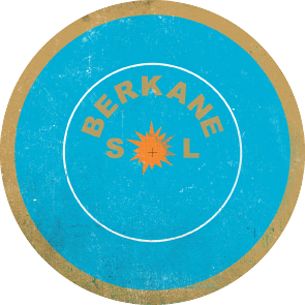 The 12th release on Kamal Joory's Berkane Sol imprint sees him teaming up with Wigflex boss and fellow Nottingham resident,
Spamchop
, for the A-side
'Cave Rave.'
Unfurling low end stabs, crushing snare drums and hyper delayed hi hats they meld their styles well, hanging their percussion on an almost Egyptian sounding synthesizer and tight mid range bass pulses that wander the scales with an abundance of swagger. It's a little less twisted than you might expect, on the grounds of previous work from both producers, with the emphasis placed squarely on the pressure the drum work yields at high volume but it's a beautiful example of the ingenuity and talent Nottingham is currently breeding.
'Sirius Star'
is solo
Geiom
firing on all cylinders; when he's using his hi hats to propel his 2-step, funk rhythm or teasing out short blasts of taught mid range bass you really can tell he's enjoying his time inside his sequencers. He lets the main melody float in snatches around the track's main bassline pulse, once again forcing the low end and drum work to carry the brunt of the attention. It's a little more of a creeper than the A-side, but when the motorway like atmospherics dissipate into nothing and the drums dance through the swirls of synth texture it's a definite plate to be proud of.
Words: Oli Marlow
Out: Now (on promo)
Link:
www.myspace.com/geiom
www.myspace.com/djspamchop