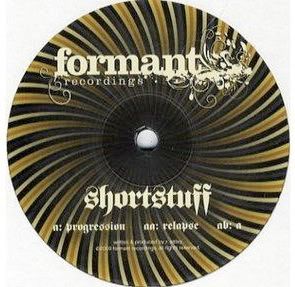 Following on perfectly from the Texan label Formant's last 12" platter from the much discussed Hyetal,
Shortstuff
, known to the copywriting world as Richard Attley, hits out at the market with his second solo 12" after the superlative
'A Rustling' b/w 'Stuff'
offering on Ramp Recordings.
This three track single manages to take his broken tech infused, nearly funky sound into deeper territory; the opener
'Progression'
jitters into life with its punctuated echoes and soulful, hot buttered bleeps contrasting the computerised bass warbling until the broken groove Shortstuff is fast making a trademark hits. Taking the garage template and twisting it into new shapes he ebbs up the drone synths, adding familiar chimes and time stretched percussion before the saw waves finally erupt.
With a synth lead reminiscent of early Planet Mu or even some of the more Boards of Canada-esque Warp releases,
'Relapse'
displays perfectly how to create tension through melody as Attley gears up to his first breakdown with rolling chord stabs and persistent percussion; the kind that absolutely drives the whole rest of the song when it re-appears after it makes way for the low end riff.
'A,'
the longest track on offer here, again fuses Attley's penchant for snatches of melody with thick, sweetly compressed kick drums with the kind of wandering bass you'd more likely find accompanying 170bpm drums. Its sawing pierces your belly at high volume and really does leave the lead synths and the high end of the drums completely alone, letting them flitter and twinkle respectively showing a deeper and somewhat more subtle side to Shortstuff.
Words: Oli Marlow & James Balf
Out: Now
Links:
http://www.myspace.com/djshortstuff
www.myspace.com/formantrecordings