Whilst North London resident and producer-du-jour,
Untold
, and his profile have risen up into the echelons of cultural notoriety of late, he's also managed to carve himself a neat little plateau to launch other artists, in his own
Hemlock
imprint. Stylistically, the label sleeve's uniformity - blessed with a dark all-over Hemlock crest screenprint and a stark flash of colour on the artist label - has become a signifier for quality, and somewhat of a collectors item given the print standard and limited run of the pressings.
Having released 3 x 12"s and a double pack EP of Untold material - he seemingly reserves some of his most ground breaking work (see
'Yukon'
b/w
'Walk Through Walls'
and
'Gonna Work Out Fine'
) for release on his own imprint - the label has also become a home to work by Fantastic Mr Fox & Rich Reason on a collaborative single as well the ever blossoming harmonies of James Blake; who appeared on his first full 12" and on his dancefloor challenging re-work of Untold's 'Stop What You're Doing.'
For us, Hemlock truly is up there with labels like Ramp Recordings, Hessle Audio and Hotflush in terms of being a no-brainer for on sight purchase, and - ever so kindly - to celebrate both the label's new 12", a collaboration between Untold & LV which features a Mount Kimbie refix on the flip, and their takeover of Room 2 at next Friday's Hyp!Hyp!Hyp! @ Plan B in Brixton, they're offering a few lucky Sonic Router readers the chance to scoop a shit load of bounty.
Top prize:
1x Hemlock Sweatshirt
1x Hemlock T-shirt
1x Full Hemlock vinyl catalogue*
2x Guest list for the Event
3 x Runner up prizes consisting of:
1x Hemlock T-shirt
1xGuest list for the event
O' happy day!
EDIT - This competion is now closed.
Q: Walking through walls is a feat attempted in which recently released film starring George Clooney?

*Hemlock Catalogue to be won:

HEK001 12" Untold - Yukon / Walk through walls
HEK001R 10" Untold - Yukon (Fantastic mr fox remix) / Walk through walls (LV remix)
HEK002 12" Untold - Discipline / Bones
HEK003 12" Fantastic Mr Fox & Rich Reason - Plimsoul / Bleep show
HEK004 12" James Blake - Air and Lack Thereof / Sparing the Horses
HEK005 2x12" Untold - Gonna work out fine e.p
HEK006 10" Untold - Stop what you're doing (James Blake remix) Untold - I can't stop this feeling (Pangaea remix)
HEK007 LV & Untold - Beacon / LV & Untold - Beacon (Mount Kimbie remix) (Unreleased advance copy)
Guestlist to be won: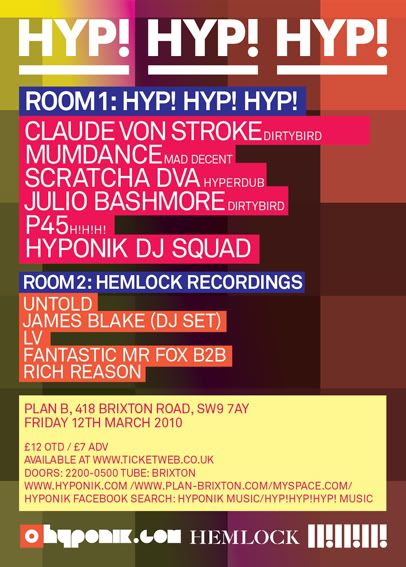 Hemlock Room:
Untold
James Blake (DJ set)
LV
Fantastic Mr Fox b2b Rich Reason
Doors: 2200-0500
Tickets: £7 advance / £12 on the door
Facebook Event
//
Tickets
For full event info
go here.
Link:
www.myspace.com/hemlocklondon